Sharing is caring!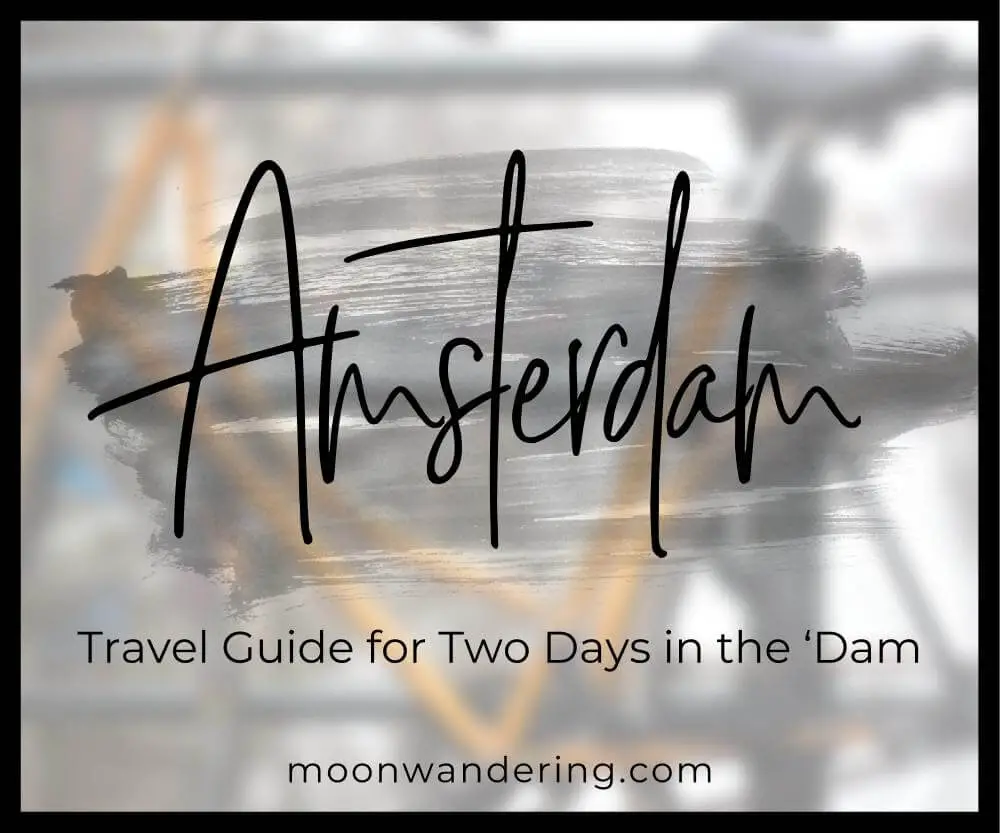 Hoiii! It's time to go to Amsterdam, yeah? Amsterdam is a really fun cultural city that has been popular with tourists for ages. Riddled with canals and more bicycles than you've probably ever seen, it is a city not to be missed on your next European adventure.
This travel itinerary contains information on flights, accommodations, meals, transportation, and suggestions for things to do over two full days in the 'Dam. If you have more time than I did, I have added a few other things that I wish I could have done while I was there too. I would never call myself an expert on the area, but I did have a great time in Amsterdam and I'd like to help you do the same. 
I know it's hard to maintain your yoga practice while you're traveling, but make it a priority, because you'll be needing your yoga after biking the cobblestone streets of our beloved Amsterdam.

Flights:
I flew into Amsterdam on Norwegian airlines. I am a bargain hunter when it comes to flights, so I don't have much to say on this topic other than do your research. Prices depend on where you are flying from, but I pretty much always use Skyscanner in incognito mode to find the best deals. If you are flexible with your dates, look at the whole month and choose the cheapest option.
There are a lot of affordable nonstop options available out of NYC. If you're able to get a puddle jumper to the Empire State, you will easily find a flight to Amsterdam for less than $300. Noregian Airlines was comfortable and safe, but nothing to call home about. If you want more information about booking flights to Amsterdam, I recommend these resources. 
Resources:
Where to Stay:
When you get into Schiphol Airport in Amsterdam, I recommend taking a taxi to your accommodation. The train is readily available and very affordable, but we attempted it and ended up getting lost for an hour. Trust me, it's not fun to lug your bags in and out of trains in a foreign country after traveling for 10+ hours. If you are able to figure out the trains out immediately, then more power to you! If you want to save yourself a headache, just go to the cab line and show the driver your address. 

I stayed at a trendy place called Hotel Not Hotel and loved it. It's a lower-cost option for those that like style and comfort. We paid ~$75/night. Every room is designed by a different artist and has a unique theme. Some of the rooms are renovated busses and vans. There is a really unique library on the upper floor where you can relax, read, or play chess. There is also a Thai food restaurant called "Kevin Bacon" in the lobby that smells AMAZE.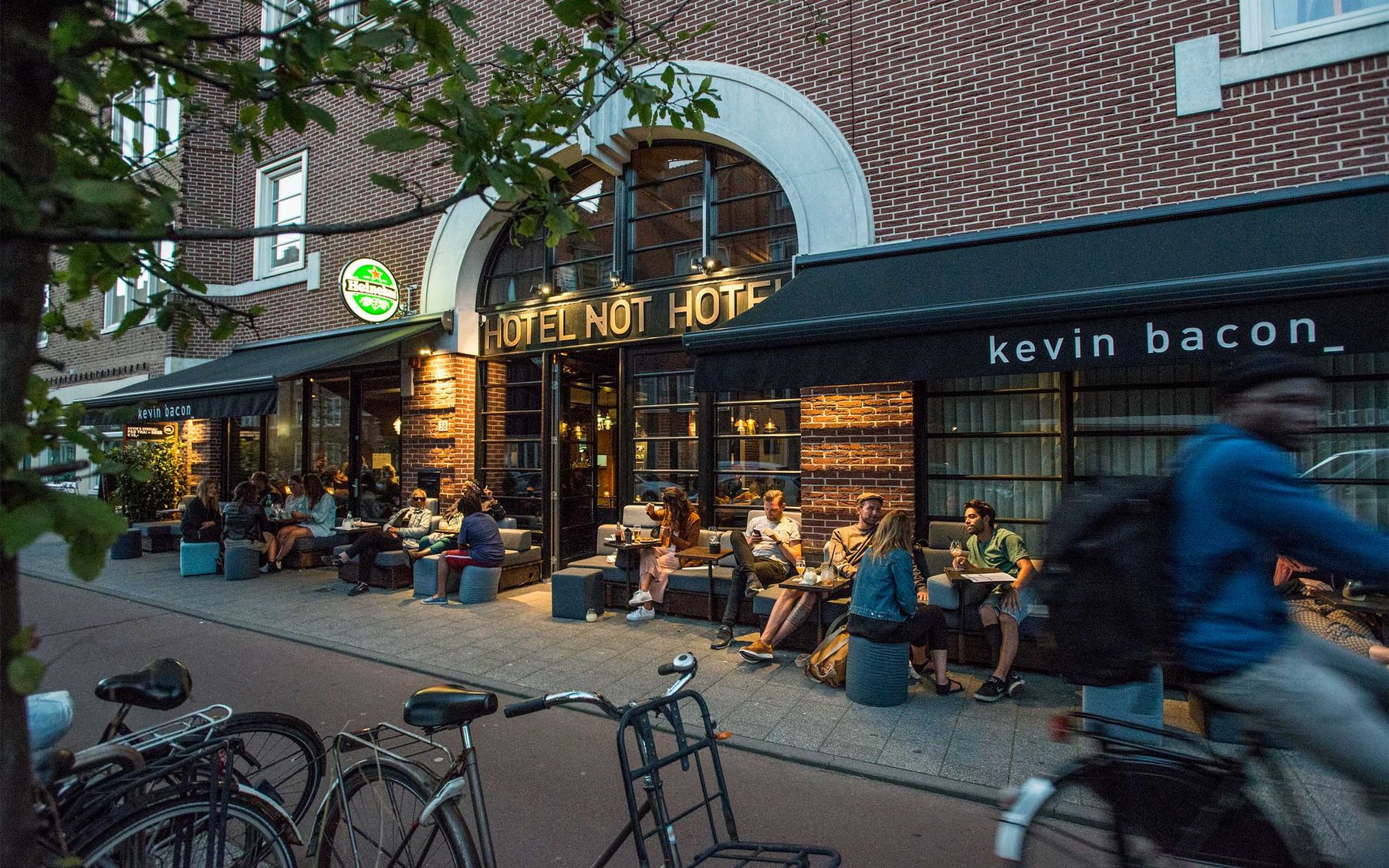 The bathrooms are cleaned regularly and have shampoo and soap available. Even though it is a communal bathroom, I never saw anyone else in there at the same time as me, which made me feel like I had the whole place to myself every time. 

The staff at Hotel Not Hotel was very friendly and knowledgeable. They offered bike rentals and let us store our luggage after check out and before our departure. And, if you're appreciate local suggestions, the ladies up front offered some great ideas. 

The only drawback from Hotel Not Hotel was the location. It wasn't in the most "prime" place for walking to the tourist activities. It takes about 20-25 minutes to walk into town, and if you have a bicycle, it's even quicker. But, it rained almost the entire 48 hours we were in Amsterdam, so we didn't want to walk or bike the distance. We ended up calling Uber most of the time, which does exist in Amsterdam, but I would NOT recommend it (see more on that below). 

If I were going back to Amsterdam, I would choose to stay in a more central location. For more information about the various neighborhoods, I recommend Nomadic Matt's article. I also took the liberty to draw a circle on this map to show where most of the "tourist things" are. I would recommend staying in that area so you are walking distance to most of the things you want to do. The rooms in this area are a bit pricier, but I think the convenience factor is worth it in this case. 

Suggestions: 
This eco-friendly chain offers a few good locations in Amsterdam. They have positive ratings and offer a fair price. I think the one at the tire station looks really cool. Expect to pay ~$100/night.

AirBnb Options
P.S. if you've never used Airbnb before, use this link to sign up!

How to get around: 
There are essentially three options for getting around Amsterdam; walking, biking, or by taxi. Biking is by far the easiest and most convenient option. I recommend getting a bicycle as soon as possible when arriving to Amsterdam. Otherwise, you will end up wasting a ton of time on Uber or wandering around on foot, not getting very far. It is a biking culture, so take this opportunity to get some exercise and see the city the way it is meant to be explored. 

A word on Uber, though it is available in Amsterdam, you have to remember that the roads aren't really designed for cars. You will most likely watch your Uber get stuck in traffic on its way to pick you up, which can turn a 5 minute pickup time into a 20 minute pick up time. Honestly, I had never had so many Ubers cancel on me as I did in Amsterdam. It was really frustrating. If you are in a situation where you have to call an Uber, I suggest calling it at least 20 minutes in advance of when you actually need it.

For bikes, you can find rentals pretty much anywhere. Your hotel probably offers rentals, but check the prices first. You can go to a tourist shop and ask if they have any discount coupons for nearby rental shops. We found one near the Anne Frank house and got a 10% discount by visiting the tourist shop next door first.
Most people do not wear a helmet, so don't expect to get one with your rental. The Dutch bikers ride fast, so be on alert and use your bell when turning a blind corner. They will give you a bike lock and chain, and you should definitely use it. Bike theft is the number one crime in Amsterdam after all. 

I just found these companies on google that have a lot of positive reviews, but feel free to pop into any nearby shop when you're in town. You can't really go wrong!
Where to eat: 
De Foodhallen is like the Dutch equivalent of a night market. There is really something for everyone here. When you walk in, you will be hit in the face with amazing smells from the various food stands. There is a gin and tonic bar as well as a couple other bars inside to get yourself a cheap Heineken. Traditional Dutch food is available as well as several other international cuisines. As a vegetarian, you will find options available on most of the menus. But, a word of warning, this was the first place we ate in Amsterdam and I quickly realized that I was in a heavy meat culture. It might be a good place to break your vegetarianism and get a taste of those "cultural meats." 

Seating at Food Hallen can be tricky. It's a communal seating situation, so it could be a great opportunity to meet new people. Unfortunately, we could not find an open seat at any of the tables. Also, it is noteworthy to mention that Dutch service is not efficient at all, so the tables aren't cleared frequently. Be prepared to bus your own table or eat on top of someone else's leftovers. I saw lots of people eating on top of the trash cans.

After a few minutes of searching, we were able to find a place to eat outside of the hall itself. If you go all the way through to the back, there is a big corridor with trees in potted boxes. We rested our food on the planter and enjoyed the fresh air while we ate. It was more spacious and peaceful back there and we didn't have to eat on top of a trash can. Win-win!

This is a vegetarian's delight! One of the most famous Dutch cuisines in called "Bitterballen" which is basically a fried ball of meat gravy. It's offered at almost every single restaurant in the country, but not often vegetarian friendly. So, if you are vegetarian, I highly recommend going to the Vegan Junk Food Bar to try it.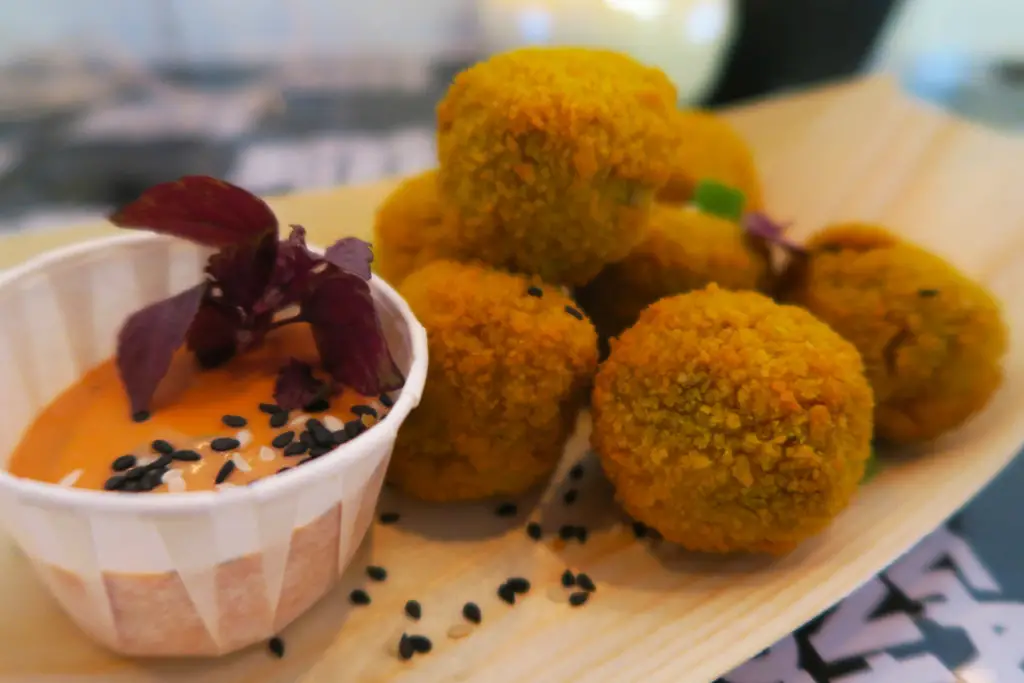 This is an excellent brunch spot in the De Pijp neighborhood. It is a more local area, so it will require a short bike ride, but I promise it is worth it. The food was delightful. I had a delicious serving of avocado toast paired with a perfect cappuccino. Keep in mind, the service is Dutch, so don't get your expectations up. You will seat yourself and wait awhile before someone notices you. There is seating inside and outside and it is a lovely restaurant with delicious food. 
Also, it's worth mentioning that De Wesserette is at a cross street with a local street farmer's market. I am not sure if the market is open every day, but we went on a Friday morning and it was really fun to walk off breakfast with a stroll through the local stalls. 

Other Suggestions: 
I did not get a chance to eat here while I was in town, but it came highly recommended. It is a traditional Dutch comfort food restaurant and located in the Jordaan neighborhood. Order the Dutch Ricedish which is a dinner for two that includes samples of several different entrees. You have to make a reservation beforehand! 

This is another place I did not get to try, but I really wanted to. I heard it has the best apple pie in town. Need I say more? 

*One more word of advice about food: Where ever you go, don't order Tapas. We went to a busy restaurant one night and orders tapas. We thought this would be a safe choice as we weren't too hungry, but wanted some munchie foods. We were served a variety of unidentifiable fried foods. They weren't terrible, but they weren't very good either. We thought maybe it was just the restaurant, so later we tried to get Tapas at another place and it ended up being the same thing. Just remember, Tapas aren't a Dutch speciality.

What to do:
You do not want to miss this historical experience while you're in Amsterdam. You should try to get your tickets online (about $12USD) about a month in advance. Pick your time slot and show up on time. They are very efficient about timeliness. It comes with the audio tour so you can hear the experience has you walk through the secret Annex. I had chills all over my body the moment I walked in and left with a heavy heart for that dark spot in human history. Even though it is sad, I think it's crucial to visit and see it for yourself. If you have never read the Diary of Anne Frank, now would be a great time. You will see all the places she references in the book and get a much more personal experience.
This canal tour was by far my favorite part of my two days in Amsterdam. The 70 minute tour is less than $20USD and it includes unlimited drinks on board. The seats on the boat were really comfortable and the staff was really friendly. The captain of the boat gave us some inside information about Amsterdam, its history, and some tips about cool places to go after the tour. We sat next to a group of Canadians and enjoyed getting to know them while swapping travel stories. It felt like the most "Gezellig" thing we did in the 'dam. 

Quick tip, if you choose your pickup/dropoff location at the Red Light District, there is a good chance you will get some portion of the ride to yourself. Most people got dropped off 15 minutes before us near the museum. I appreciated the opportunity to go sit at the front of the boat and get some nice pictures! 
You didn't think I would complete my Amsterdam guide without mentioning the coffee shops, did you? Well, I have to say, I was really pleased with this part of the Dutch culture. Even if you are not a regular cannabis user, the coffee shops are a really unique cultural experience that should not be overlooked. 
Use this link to find some common dos and don'ts of Amsterdam coffee shops. You will see the coffee shops on just about every street. Don't be shy. Just enjoy and be safe! 

A fun, free, and relaxing way to enjoy the Dutch culture is to visit a local park. We found a couple parks just by walking and biking around town, but there are several other famous parks that you could seek out. I enjoy people-watching in areas like this. It is sweet to watch couples canoodling near the waterfront and little dogs following their owners around the flower beds. A word of advice? Stay on the paved path. I got a little adventurous and wandered into a little wooded area near a bridge and I was instantly surrounded by used condoms. I'm not sure if this is a common thing in Amsterdam parks, but after that encounter, I made a conscious point to stay on the public paths.

These iconic letters move around the city at different points in the year. It's like a traveling display of culture and is a fun adventure to find them! Use this link to find out where they are so you can track them down while you're in town. 

Other Recommendations:

I was disappointed that I didn't get a chance to do this while I was in Amsterdam. Our canal boat captain pointed out this building while we were on our tour and told us it is the best place to see the sunset in Amsterdam. Entrance to the museum costs about $20 but access to the rooftop is free. You can enjoy a cocktail here while watching the sun set over the old city.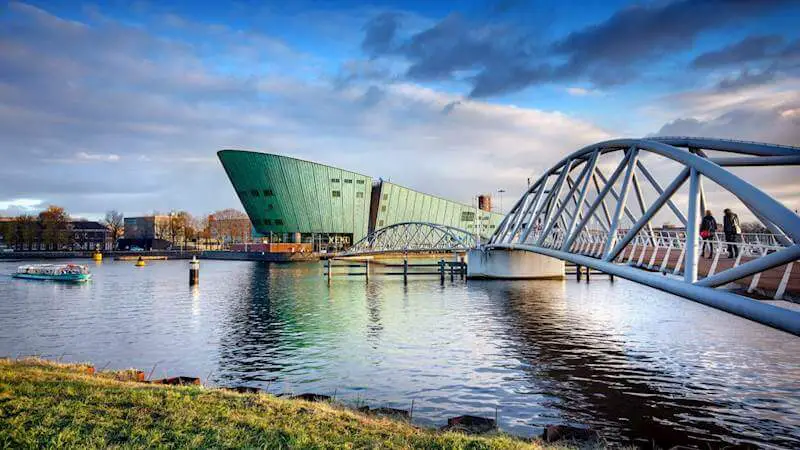 The Canadians on our canal tour raved about the Heineken experience. Though Heineken is a German beer, it is primarily brewed in Amsterdam and there is a huge market for it in the Netherlands. The Heineken experience costs about $20USD and apparently it is worth every penny. Like any other brewery tour, they give you an insight into the history and show you how the beer is brewed, but this experience specifically puts a lot of focus on the sensory experience of the beer. They teach you how to really love and appreciate the beer, which seemed like really mindful way to enjoy it! If I went back to Amsterdam, I would try this tour. 

I heavily considered visiting this museum while I was in town, but I prioritized the visit to the Anne Frank House, so I just didn't have time. This museum boasts to have the largest collection of original Van Gogh's than any other museum in the world. A ticket costs about $21USD and due to limited space, you have to book online in advance and you have to show up at your chosen time slot. If you appreciate art and think you would fan-girl over the largest collection of Van Gogh's in world history, you should definitely go here. But, a word of warning, my friend told me that there are a lot more "Van Gogh-Inspired" pieces in the museum that actual Van Gogh's. I still think it would be a cool experience, so that's why I am recommending it. 
My final recommendation for this guide is to visit and shop at the Bloemenmarkt. The world's only floating flower market can be found right in the heart of the town. There are thousands of tulips here and it's a bustling market from the hours of 9am to 5:30pm on Monday-Saturday and 11:30am-5:30pm on Sundays. Chances are that if you have come to the Netherlands, you would like to see tulips and windmills, right? Well, you have to go out of town a bit to find the windmills, but you can find the tulip shops open for business on the canal every day of the week. I didn't get the chance to see it when it was open, unfortunately, but we walked by it when it was closed and I made a promise to myself to visit next time I go to Amsterdam.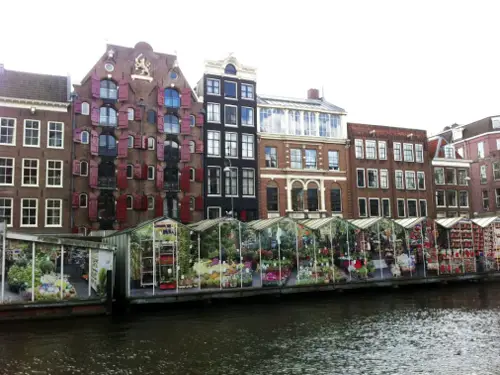 Closing Remarks

I hope you found this guide useful for your upcoming trip to Amsterdam. I mentioned before that I only spent a couple of days here and I did not feel like it was truly enough time to see everything I wanted to see. I definitely could have spent a lot more time there! If you are planning a trip to the 'Dam soon, leave a comment below and let me know what you plan to check out. If you have anything I should add to this guide, also drop a comment. I want to offer helpful advice and insights into how to get the most out of your trip. Doi* for now! 

*Doi means "Bye" in Dutch. 

Remember to like, pin, or share it to spread the love!
For further European adventures, check out this post to find out where to get monk-brewed beer from a monastery! There are 2 Trappist Breweries in the Netherlands and only 14 worldwide. It's a super cool experience. I highly recommend it.
Continue your European adventures next in Brussels!

Happy Moon Wanderings, my friends.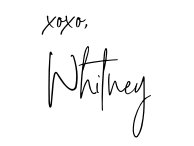 Pin this image