Sharing is caring!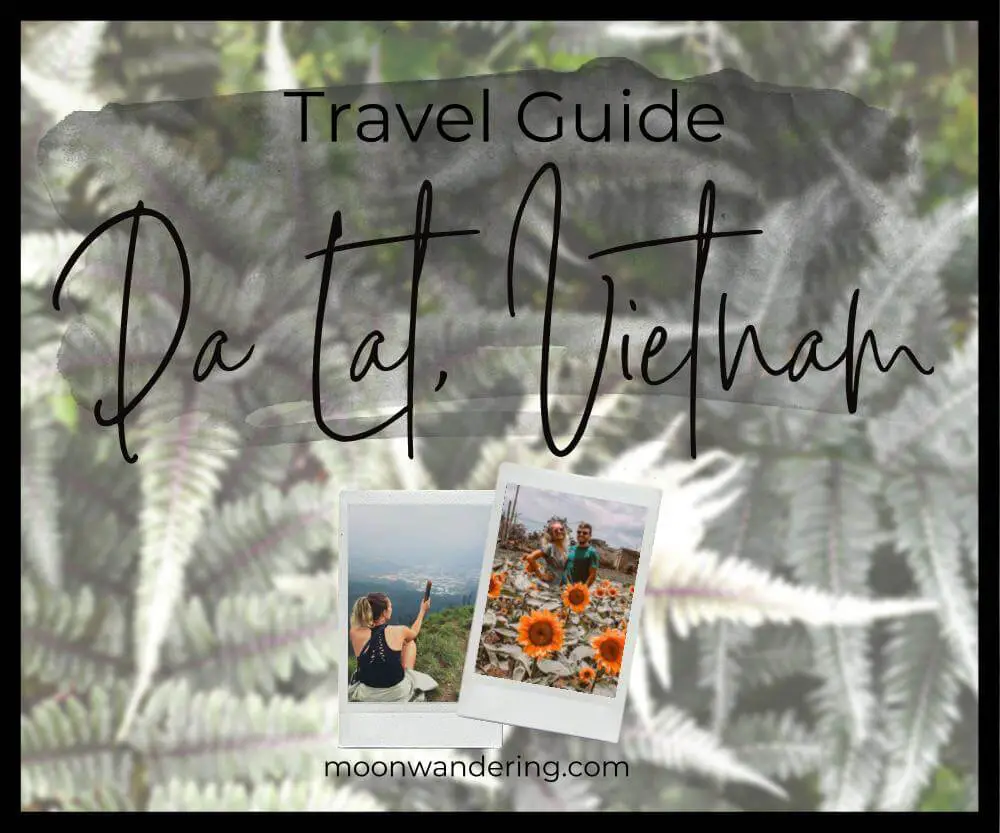 Take a forty-five minute plane ride north of Ho Chi Minh City, and you'll find yourself in the Land of Eternal Spring, otherwise known as Da Lat, Vietnam. My partner and I visited the area early April, supposedly a peak time for the area, but it doesn't matter what time of year you go. The climate in this alpine town is virtually the same all year around. It blew my mind when we stepped off the plane. The difference between the hot humidity of Saigon and the cool drizzle of Dalat was striking!

Many travelers neglect Dalat in the itinerary because it is not on the typical route near the coast. Dalat is inland and rural, which speaks to its charm. Vietnamese couples often honeymoon here and, over the years, the town developed a reputation for being a romantic getaway for young couples. You'll see horse and carriage rides posted up by the lake in town and flower parks with elaborate displays created as the backdrop purely as vacation photos.
My approach to visiting a new city tends to avoid the kitsch tourist-traps and leans toward experiencing natural environments. I support small, eco-friendly businesses and explore the outdoors as much as possible. Don't forget to practice a bit of yoga while you're there too!

The mountains and valleys of south-central Vietnam are a prime area for growing flowers. A Dutch man living here in the 90s started the legendary flower industry. In the twenty odd years since, the flower culture has grown substantially. The flowers alone are enough reason to visit, but the area is also known for incredible coffee. Spend your days sifting through coffee shops, flower pastures, or be a little more adventurous and go for the hike up to Lang Biang Mountain.

If the weather is nice, take a scooter ride through the winding roads outside of town. Beyond the greenhouses and the coffee shops, you'll find amazing views of tree-covered landscapes, flower fields full of sunflowers and lavender, and at least one coffee farm.
Use my tips and stories below to help you avoid the hokey stuff and get straight to the beautiful authenticity of the land, climate, and culture.

Where to Stay
I recommend booking a place on AirBnb for Da Lat. You want to be in the city center, so don't book a place near the airport. The airport is about 35 minutes from the city center. There are a ton of really cute places to stay at an affordable price. Always be sure to check reviews before booking!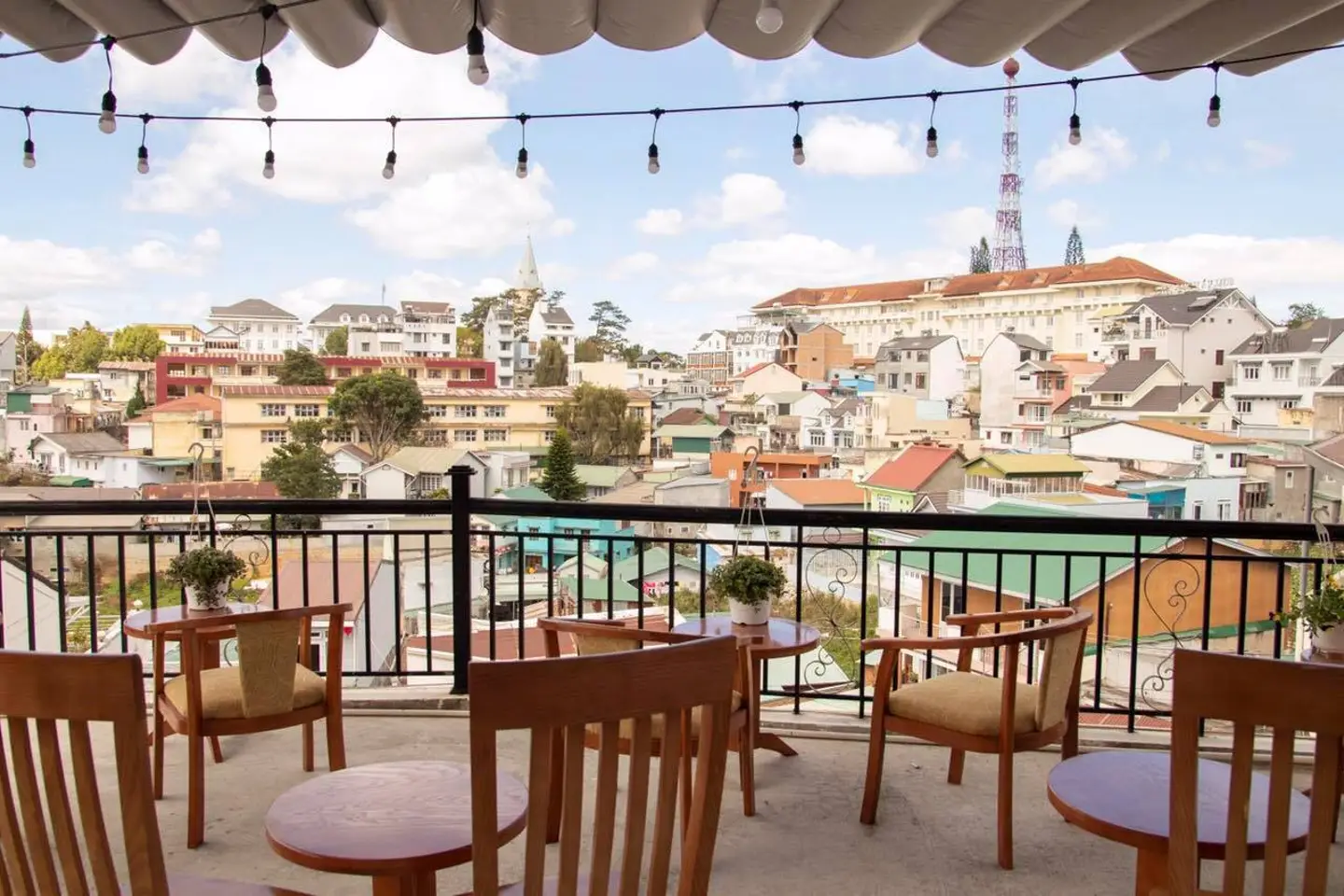 Best coffee in town
La Viet
Looking back at all the coffee I drank in Da Lat, La Viet stands out as the most quality. They are craftsmen of the coffee game and they take a lot of pride in their product. I settled at a large table in the warehouse style cafe and drank three different types of coffee. Afterward, highly caffeinated, I purchased a bag of whole beans and a t-shirt from the giftshop. They also do tours and tastings to learn more behind the process. If you like coffee even a little bit, do yourself a favor and check out La Viet while you're in Da Lat.

Address: 200 Nguyễn Công Trứ, Phường 8, Thành phố Đà Lạt, Lâm Đồng, Vietnam

Website:https://laviet.coffee/en/  or  https://www.facebook.com/coffeelaviet/

An Cafe
This place is really well-known in Vietnam. There are a couple of others in other cities, but the Da Lat location is cool because it is like a garden built into a hill on the side of the road. We were sitting above the traffic as it went up a hill and around a big turn. The shop itself is covered with plants and greenery. I enjoyed An's Special Coffee, which is basically an espresso with coconut oil. The service was friendly even if though there were a considerable number people there. An's Cafe has it all. Go there for some coffee, tea, food, or dessert!

Address: 63Bis Ba Tháng Hai, Phường 1, Thành phố Đà Lạt, Lâm Đồng 670000, Vietnam

Website: www.ancafe.vn/an-cafe-english
Anna's Coffee House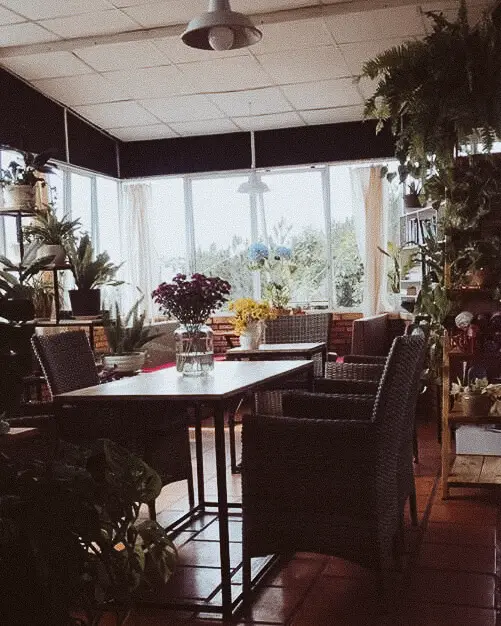 Anna's Coffee House was hands down my favorite cafe in Da Lat. Not to be confused with the aforementioned An's Cafe, this cute little coffee house is outside of the main town, near the entrance to the cable car. Park across the street and head in. The first time we entered the restaurant we were promptly greeted by a friendly pupper. Anna welcomed us and let us choose our seat. Outside, with the view overlooking the tree-topped hills, we could literally smell the pine trees. We ordered coffee. My partner got an iced-mocha and was rewarded with a huge, frothy concoction of chocolatey goodness. I got the cappuccino and I sipped on it. I felt the coffee, sugar, and milk caress my taste buds in a warm embrace. Dreamy, right? Don't miss out on this place!

Address: Anna's Coffee House 9B Dong Da Street Ward 3 (di len Doi Ro Bin: Cap Treo), Phường 3, Thành phố Đà Lạt, Lâm Đồng, Vietnam

Website: https://directions-ca-phe.business.site/?m=true
K'Ho Coffee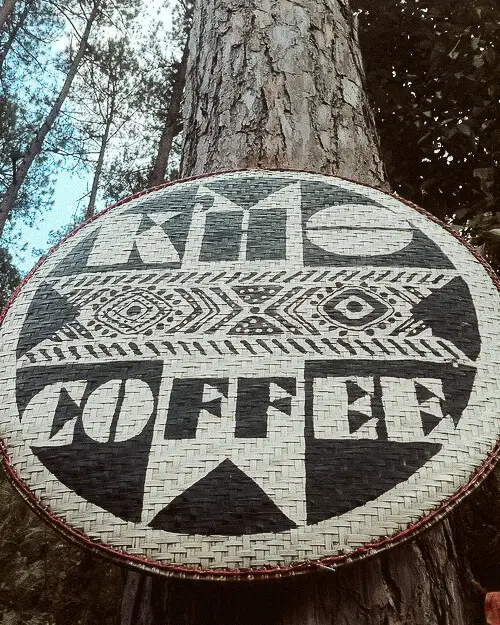 Our favorite coffee shop in Saigon uses K'Ho coffee, so I was pretty excited when I found out it was grown in Da Lat. I didn't get a chance to visit the farm in Langbiang, but if I go back to Da Lat, it'll be at the top of my list. The village is located close to the trailhead for the Langbiang Mountain Hike. Make a day of it! You could visit the coffee farm in the morning and then hike the mountain in the afternoon.

Address: K'Ho Coffee Lang Biang Lát, Lạc Dương District, Lâm Đồng, Vietnam

Website: www.khocoffee.com

Flower Field Cafe
This coffee shop looks like a wonderful place to enjoy a gorgeous view and, of course, drink delicious coffee and tea. Flower Field Cafe was recommended by my Vietnamese coworker, so I was really looking forward to visiting. Unfortunately, I ran out of time and didn't get a chance to visit. But, here's a really cool picture I found of it. If you get the chance to go there, please tell me how it is!

Address: Cafe F Cánh đồng hoa, Đèo Mimosa, Đà Lạt, Lâm Đồng
Website: www.facebook.com/fcafedalat/
Trang's Cookery
This place was recommended to me by two other coworkers who have eaten a ton of good food here. However, there were not many vegetarian options, so I recommend grabbing an egg coffee and dessert. If you haven't heard of Vietnam's special egg coffee deliciousness, then you're missing out. I tried it in Hanoi, but never found any where I lived. We stayed at the cozy restaurant for a while waiting out a rain storm. When we finally got up to leave, the owner gave us new ponchos for the way home. I'll never forget that kindness.

Address: 211 Phan Đình Phùng, Phường 2, Thành phố Đà Lạt, Lâm Đồng 670000, Vietnam

Website: https://trangscookeryrestaurant.business.site/
Vegetarian Eats
Au Lạc
There are many vegetarian restaurants in Da Lat, the trick is finding one that's good. Au Lac has an amazing vegetarian dried pho on the menu. They served this to me one day, and because I loved it so much, I came back the next day to get it again. They wouldn't make it for me. This is the kind of place that has a glass case full of food in warmers. You just point to what you want and they will plate it for you. It's all pretty good, but I suggest trying to get that fried pho, because, dear god, it was incredible.

Address: 15 Đường Phan Đình Phùng, Phường 1, Thành phố Đà Lạt, Lâm Đồng, Vietnam
Website: https://www.tripadvisor.com/Restaurant_Review-g293922-d3463747-Reviews-Com_Chay_Au_Lac_2-Da_Lat_Lam_Dong_Province.html
Ganesh
Though not Vietnamese, this Indian place is a Da Lat mainstay. Other blogs I read, also said to try Ganesh. We love Indian food more than any other cultural cuisine, so we ended up eating here a couple times during our five day stay. To be fair, it is really conveniently located, the staff is super friendly, and the food is divine. The menu's description of the "om" symbol was enough to warm my heart, but then I tasted the food. Great paneer, masala, and enormous naan!

Address: 1F Đường Nam Kỳ Khởi Nghĩa, Phường 1, Thành phố Đà Lạt, Lâm Đồng, Vietnam
Website: http://www.ganesh.vn/
Brew and Breakfast
If you're looking for a nice, cozy place that serves good coffee and all vegan food- Brew and Breakfast is the ticket. They do a few different pours of coffee and the vegan burritos are heaven in your mouth. There was also a very affectionate cat that visited us at the table. You can also rent rooms here. If we came back to Da Lat, we would highly consider staying here. Check it out!

Address: 2 Trần Hưng Đạo, Phường 3, Thành phố Đà Lạt, Lâm Đồng 670000, Vietnam
Website: http://www.bnbdalat.com/
One More Cafe
I had the best french toast of my life at One More Cafe. The first bite is so rich and delicious, it took me straight back to childhood. It reminded me of my mom's homemade cooking. I almost cried when it was gone. Too bad we didn't get the chance to visit twice because I also had my eye on their special at the time- Poached eggs on Seven Seed Toast with capsicum ragout, avocado, pesto, and dukkha.

Address: 77 Đường Hai Bà Trưng, Phường 6, Thành phố Đà Lạt, Lâm Đồng, Vietnam
Website: https://www.facebook.com/onemorecafe77/
Anna's Coffee House
I already stated this was my favorite cafe in Da Lat, but not just for the coffee, view, atmosphere, and service. The food is also very delicious and affordable. Can this place tick off any other boxes? I highly recommend this cafe. You must try the waffles and/or the vegetarian burrito.

Address: Anna's Coffee House 9B Dong Da Street Ward 3 (di len Doi Ro Bin: Cap Treo), Phường 3, Thành phố Đà Lạt, Lâm Đồng, Vietnam

Website: https://directions-ca-phe.business.site/?m=true
Things to do
Visit the Sunflower and Lavender Farm
It's no secret the visit to the sunflower and lavender farm was one of the highlights of our trip. Though, more than the flower fields, the drive out there really made it special for us.
Go early to avoid the rain and enjoy cruising through the winding roads of the rural countryside. We made a pit stop along the way to visit the outdoor temple dedicated to the Goddess of Mercy (Kwan Yin). Since it's outdoors, the usual temple etiquette is less monitored.
Use the address below to guide you, but when you arrive, the Me Linh Coffee Garden will be on the right. Just ahead (approx. 50m) you will see the lavender farm and sunflower field to your left. Pay the small fee to enter and stay as long as you like. It looked like they were about to open a rustic campsite if you're interested in glamping for a night.

Address: Hội trường thôn 4, Tổ 20, Tà Nung, Thành phố Đà Lạt, Lâm Đồng, Vietnam

Website: no website, just trust me, it's there!
Hike Lang Biang Mountain
Hiking Lang Biang Mountain is an unforgettable high point from the Da Lat trip. Be warned; I was sore for two days after this hike, and I consider myself to be mostly fit. For those that are on the adventurous side, take the trek up there and I promise you won't regret it.
I will be writing a separate piece to capture the epicness of this hike, but for now, I recommend reading the blog: https://maptrotting.com/trekking-lang-biang-vietnam/ to learn how to get there and what to expect along the way.
Things to avoid
Weasel-poop coffee
After we left the sunflower farm, we thought it might be fun to stop into the Me Linh Coffee Garden, but when you pull up, the first thing you see is a sign that says "Weasel Cages," and that just doesn't sit well with me.

The weasel-poop coffee is extremely unethical. They force feed these poor animals with coffee beans and stuff them in cages to collect their feces. They use the feces-beans to make the coffee. It is a delicacy all over SE Asia, but I strongly advise you to avoid it. Please help me stop this practice. Free the weasels!

Maze Bar
Maybe I shouldn't go so far as to say that you should "avoid" the Maze Bar, but just be warned that it is creepily vacant. There were maybe two other couples wandering around the maze the night we went. Once you make it to the top, there is a cool view overlooking the city.

I wouldn't have cool moon picture had we not gone, so I don't fully regret checking it out. But, I wouldn't recommend it as a place to grab drinks. I think the 100 Roofs Maze Bar has a lot of potential for big events, but not cut out for a couple going out for cocktails.

Crazy House
Everyone says to check it out, but I will be one that gives you permission to skip the damn Crazy House. This structure was made for tourists and it reeks of cheesiness. If you are a serious Salvador Dali fan, it might spark your interest, otherwise, don't waste your time.
Valley of Love
Of the many flower gardens in the area, this one was specifically designed for romantic tourists. To me, it looks corny and kitsch. If you take a look at the pictures online and think it is worth visiting, by all means, don't let me stop you! I've heard it is a nice place to take photos.
Final Remarks
If you are heading to Vietnam, Da Lat is often an overlooked destination, but if you want to go for a true Vietnamese experience, I highly recommend it. Get away from the heat and the craziness of the cities to retreat into the mountains. The weather is always nice and the flowers are forever blooming. Enjoy a motorbike ride in winding roads or find the best vegetarian pho in the country! Whatever you choose to do in Da Lat, I hope you have a wonderful experience.
If you have been to Da Lat and think I should add something to this guide, let me know! I am always looking for ways to improve my guides and include information from other sources.
Happy travels, y'all!