Sharing is caring!
This is what I learned…
When I first moved to southern Vietnam, I planned to rent a motorbike as my main form of transportation. Motorbikes are a way of life in Vietnam. It is in Thailand too, but when I lived in Thailand, I drove an ugly second-hand bike prone to mechanical issues. I was determined to NOT make that mistake again!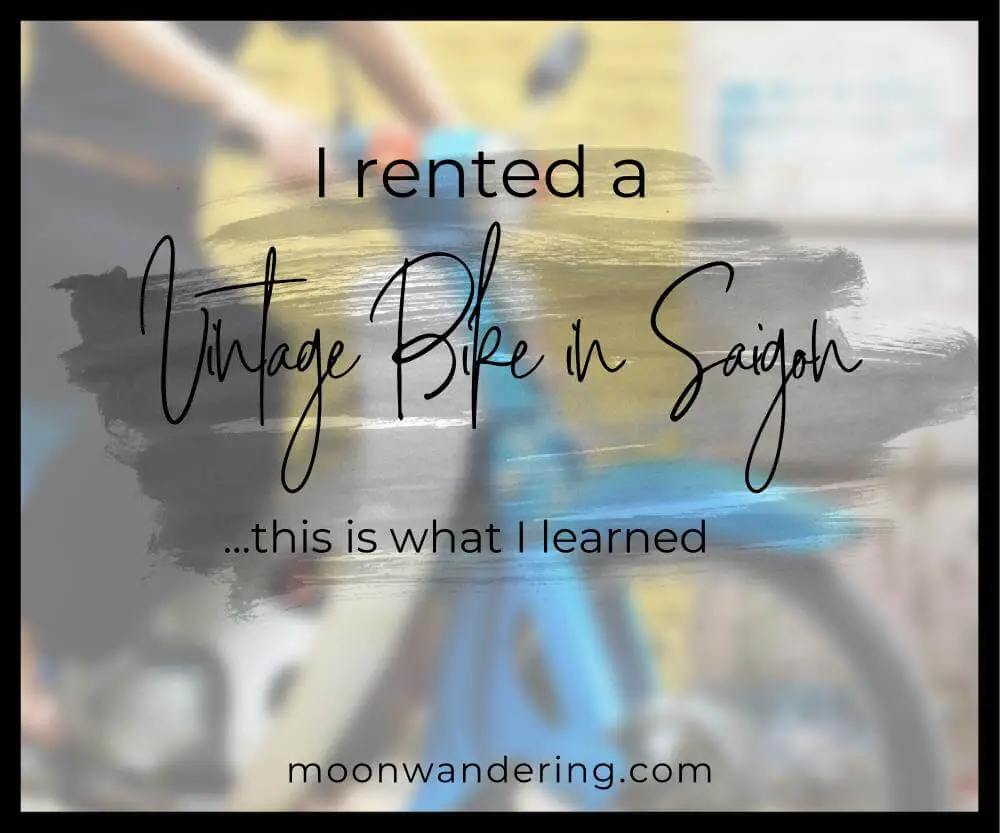 As I prepared for my second big move abroad, I did my research and found two models that met my requirements. The Honda Cub and the Classic Vespa are stylish but historically reliable. The semi-automatic Honda Cub was my favorite for its vintage design and reputation for being indestructible. I found one from a place called Saigon Scooter (highly recommend) and messaged the guy. Later, I learned his name was Tham (sounds like Tom) and his English was great.

I got him to send me a picture of the bike. It was blue. Not the desired pink I was hoping for, but it was a nice color, so I decided to test it out. I thought, it'll be perfect for getting me to and from the best yoga studio in Vietnam.
I rode dirt bikes as a kid, so I thought I could handle a full manual. This bike had been reconstructed into a semi-automatic, so it would be easier, right? Wrong.

1. Semi-automatic is not the "easy version" of full-manual.

I thought I knew this when I agreed to test-drive the bike, but I assumed they would still operate similarly. I asked a few crucial questions before my test drive, like, how to shift and how to brake. I didn't ask how to shift back down after getting into gear. Apparently, this is where the "semi-" part of the "semi-automatic" comes in. Please correct me if I'm wrong, bike people. I was out of my league from the beginning.

I struggled on my test drive. The bike was clunky. It revved up when I tried to shift gears. My head tossed back and I gripped the handlebars at every shift. Regardless, I drove around the block, pulled up to Saigon Scooter and said, "I'll take it!" I thought it was user error and I would get used to it. I decided to rent the bike for a week and feel it out further.

2. Don't try to learn the mechanics of a manual bike in the midst of Saigon traffic.

I let my partner drive home that day and I rode on the back. He didn't know how to shift the gears either. He was treating it like a full manual and we were lucky to make it home alive. I remember my stomach dropping at the sound of gears grinding and thinking, "We're going to destroy this bike."

It's fair to say that I am comfortable driving a motorbike, but the Honda Cub had a lot of quirks. The bike has a foot brake and a hand brake. I relied on the hand brake because I was afraid I would accidentally shift gears if I used the one by my foot. With this bike, you don't want to shift gears often. Shifting gears damn near gave me whiplash.

3. Safety is more important than looking cool.

A simple lesson, indeed, but an important one that I was blindly ignoring at the time. The day I offered my coworker a ride home from work really drove this lesson home. We were okay until I had to stop and turn left into oncoming traffic. The Cub died in the middle of the busy street. I got my coworker home safely and apologized profusely for the near-death experience. I didn't drive the Cub back to work the next day.

I didn't want to get rid of it at first. I gave it a strong effort because I wanted it so desperately. I imagined all the photos I would take of it and the memories I would make cruising the streets of Saigon. Lucky for me, the morning Tham came to take it back, my very supportive boyfriend got some photos to remember it by.

In the end, I learned the Honda Cub still rides like it was constructed in 1978. It was a little too old-school for me. Despite the recent rebuild, I couldn't rely on it as safe transportation, which is what I needed. At the time we were staying in Binh Thanh district, where the streets literally look like this:
Renting the Honda Cub was a minor mistake. After a couple days, my common sense kicked in and I exchanged it for the Classic Vespa.
Renting the vintage bike in Saigon reminded me of a lesson I've learned again and again; that mistakes are learning opportunities. In this case, I got what I wanted out of it; some interesting stories and a few nice pictures!

If you are heading to Saigon and planning to rent a motorbike there, please research some safety tips before hitting the road. Reach out to Saigon Scooter and Tham will hook you up with a good bike.
Stay safe out there!

Whitney