Sharing is caring!
Hello Reader! Welcome.
Are you looking for the top yoga in Sai gon? Well, lucky day! Here is a list of ten reasons why I believe Yoga Pod is the best yoga studio in Vietnam. Please read and then go get your practice on at Yoga Pod!
This studio served as the home-base for my practice during the six months that I lived in Saigon. I felt supported in my own practice, but also comfortable exploring new types of practices. Yoga Pod offers the familiar western-style yoga from different perspectives. Practicing at Yoga Pod enhanced my asana practice and made a lasting impression in my heart.
If your trip to Vietnam is bringing you through HCMC/Saigon you must put this studio onto your itinerary. Not only will you be doing yoga while traveling, but you will also be experiencing the best yoga studio in Vietnam. So, what's so special about this studio?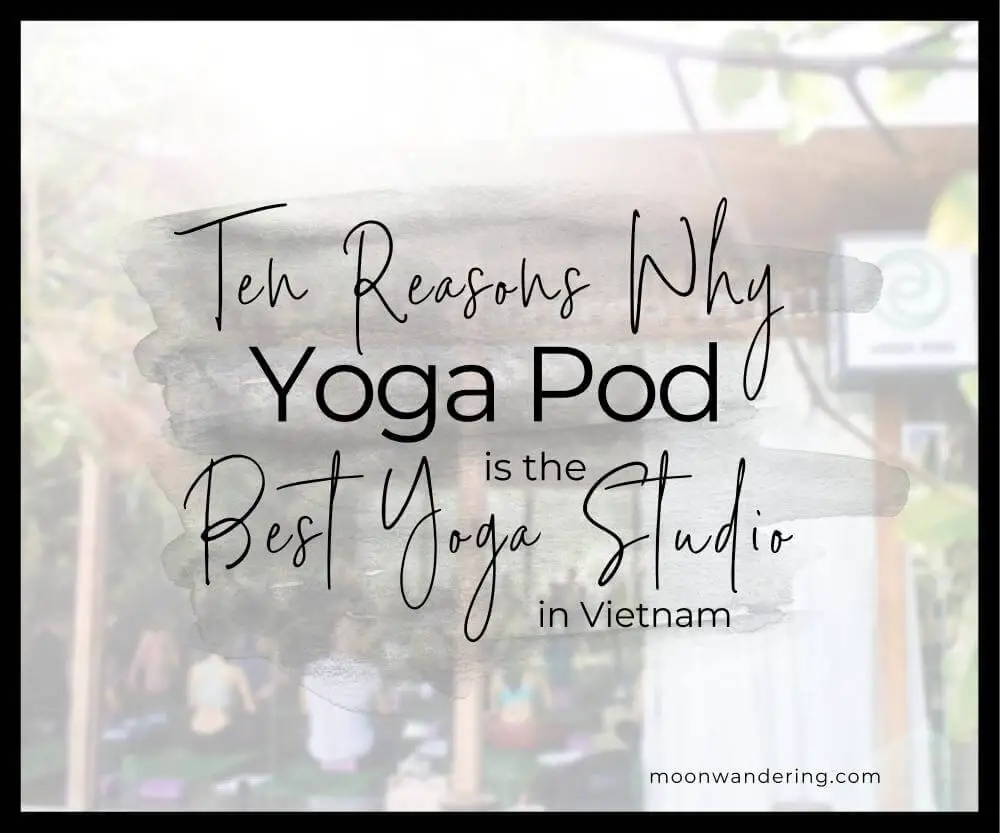 The following list is not ranked in any particular order. Each point is equally important and valid as the others.

1. Greenery
I mention this first, because it will be the first thing you notice about the studio itself. The natural beauty surrounding the boutique space is lush with greenery of all kinds. When you arrive, you park at the front of a garden. The walk through Family Garden has a couple nice places to eat and some dozing dogs. There are banana and papaya trees, small bridges over lotus filled ponds, and fragrant flowers leaning in over the pathway.

When you get to the entrance of Yoga Pod, you can smell the natural scent of the blossoms and surrounding fruits. Butterflies and other creatures appear and disappear on the sandy path toward the back of the garden. The studio usually has fresh flowers in the lobby and locker rooms. You truly feel like you are surrounded by nature when you're at Yoga Pod.

2. High Quality Classes
When I go to a studio, it is important to me that I resonate with the asana piece. I like classes that push me physically but also leave me feeling at peace with a nice, long Savasana. The teachers at Yoga Pod are all registered yoga teachers approved through demo classes. I took classes with every teacher on the schedule, and I loved experiencing the variety of styles.

Each teacher finds a way to vibe with the students and provide high quality classes while still maintaining a unique touch. Some teachers used essential oils in class while others used singing bowls. Some gave incredible cues while others offered subtle and effective adjustments. I always felt safe and supported in the classes.

3. Community Atmosphere
The staff, teachers and other members of Yoga Pod are kind and open beings of light and love. The atmosphere is warm, welcoming, and full of acceptance and belonging. The ladies up front remembered my name and I often saw the same people at classes. My friend from work referred me to Yogapod in the first place, so we would go to the lunchtime classes together. There is a strong community vibe at Yoga Pod. And, it is so beautiful to cultivate community in your travels and in your life.

4. Clean, Open Space
The crowded city of HCMC can feel a little overwhelming at times. The sky is a grayish hue and the haze from the motorbikes saturates your clothing. Yogapod is a true escape within the city. Once you walk through the beautiful landscape of Family Garden, you are welcomed to a clean, open, peaceful space.

There are clean bathrooms with showers, lockers, and a full sized mirror. There are two spacious yoga rooms available. The wall of glass windows in each room gives you more of the feeling of openness. One of them looks out toward a pond and a grove of trees. The other faces a small private sidewalk and lush greenery. There are curtains that can be pulled for privacy, but usually, there aren't many people in that section of the garden. You really feel like you're in an oasis.

5. Away from the Noise
This is a piggyback from the previous point, but it deserves to be highlighted again. I don't know how they managed to find the quietest corner of Saigon, but they did it. Yoga Pod is tucked away from the noise.
It's no secret that Saigon traffic is serious. You can't escape it anywhere, but Yoga Pod has pulled it off. Occasionally, you might hear a honk or an engine rev, but for the most part, classes are quiet and peaceful. That's a remarkable feat considering the surrounding city. If you're looking to get away from the chaos, take a class at Yoga Pod.

6. Variety of Classes

My favorite classes while I lived there were the midday Vinyasa class and the Friday night Restorative. I already mentioned that I used to take the lunch time class with my coworker. It worked out perfectly for my schedule when I was working in the office. But, when I traveled for work, I usually returned on Friday afternoon and I would take the Restorative class on those nights.
I developed such an immense respect for Restorative that I never knew I had before. The schedule at Yoga Pod allowed me to explore different types of yoga, but also allowed me to continue my regular practice. There's a good balance of slow, stretchy classes mixed in with several more fast-paced flow classes. You can choose what you need for the day.

7. High-Quality Touches

A lot of studios in Vietnam are created by solo entrepreneurs who convert the bottom level of their home into at yoga room. You can see the sign for "Yoga" tacked onto the wall outside a busy street of bustling business and constant stream of motorbikes. I drove past several studios like this in my time in Vietnam and never went inside. So, maybe they are better than I am giving them credit, but Yoga Pod is nothing like that.

Yoga Pod holds itself to a high-quality "western standard." The studio offers free mat rentals and complimentary water during classes. With the outdoor nature of the space, they also provide free towels and organic insect repellent. The essential-oil blend of the bug spray smells great. If the Saigon heat is too much, they close the doors and turn on the A/C. So refreshing!

8. Eco-friendly

This two-year old studio is made fully of wood. It is very raw and basic, but modern and sophisticated in its minimalist approach. There are several plants around and within the studio that add to the natural feeling. I love breathing in the fresh air around the studio.

They use organic insect repellent, reusable glasses for water, and cloth towels instead of paper products. I love supporting eco-friendly brands. Yoga Pod does its part to reduce its carbon footprint. As a customer, I appreciate the effort and so does the planet.

9. Free Mat Rental

I have a travel mat, but it is very thin and I accidentally leave it at home a lot. At Yoga Pod, I never had to worry about that. They keep the mats in the studio clean and available for every class. You don't even have to ask for it, they just keep them out in the studio at all times. That does mean other people use the mats on a daily basis, but the staff at Yoga Pod cleans them after every class.

If you are uncomfortable using a rental mat, you can always bring your own. However, I know sometimes we have to make sacrifices while packing and the yoga mat doesn't make the cut. If you're traveling without a yoga mat, you don't have to sacrifice your practice.

10. Workshops and Other Awesome Events

Yoga Pod is also really good about offering workshops and other events outside of the classes on the schedule. They often participate in community events, offer free guided meditation, and host extensive month-long introduction courses. There are workshops on mindfulness, various types of yoga, and sacred music. Yoga Pod has plans to offer more retreats and trainings in the future, too. If you check out their facebook page, you can find upcoming events and workshops. You can also find the class schedule online from their website listed below.
Website: http://yogapodsaigon.com/
Facebook: https://www.facebook.com/yogapodsaigon
Instagram: @yogapodsaigon
Thank you so much for reading about all the reasons why I love Yoga Pod in Saigon. Feel free to Like, Pin, or Share. Comment below to tell me what you love most about your home studio. Don't forget to subscribe to my email list.
Namaste yogis~ until next time…
Whitney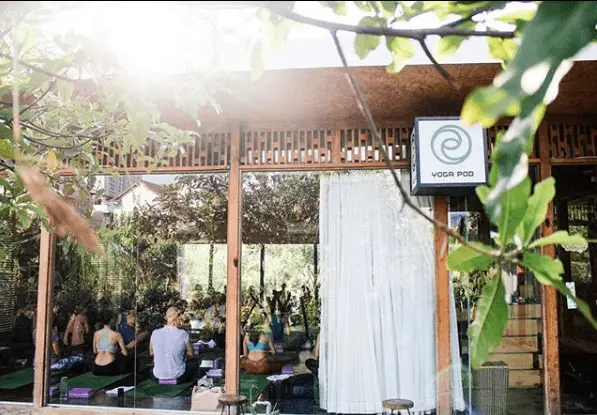 Pin this Image!