Sharing is caring!
Crystals are a great way to ground the root chakra. The root chakra is the foundation of our energetic being, and when it is grounded and strong, our entire being is supported. Muladhara, the Sanskrit name for the root chakra, is our connection to the earth element. It is the energetic source of our stability and sense of security. Crystals, coming from the earth, are particularly prime for helping out the root chakra.
When Muladhara is grounded, it allows us to draw energy from the earth and the universe. Choosing and using crystals that resonate with the root chakra can help us to ground our energy and draw in more of the energy we need to be our best selves.
Here is a list of crystals for grounding the root chakra. They're in no particular order, and it is by no means a conclusive list. So, I encourage you to comment below and let me know which crystals you have personally used to help you ground your root chakra!
Crystals for Grounding the Root Chakra
Carnelian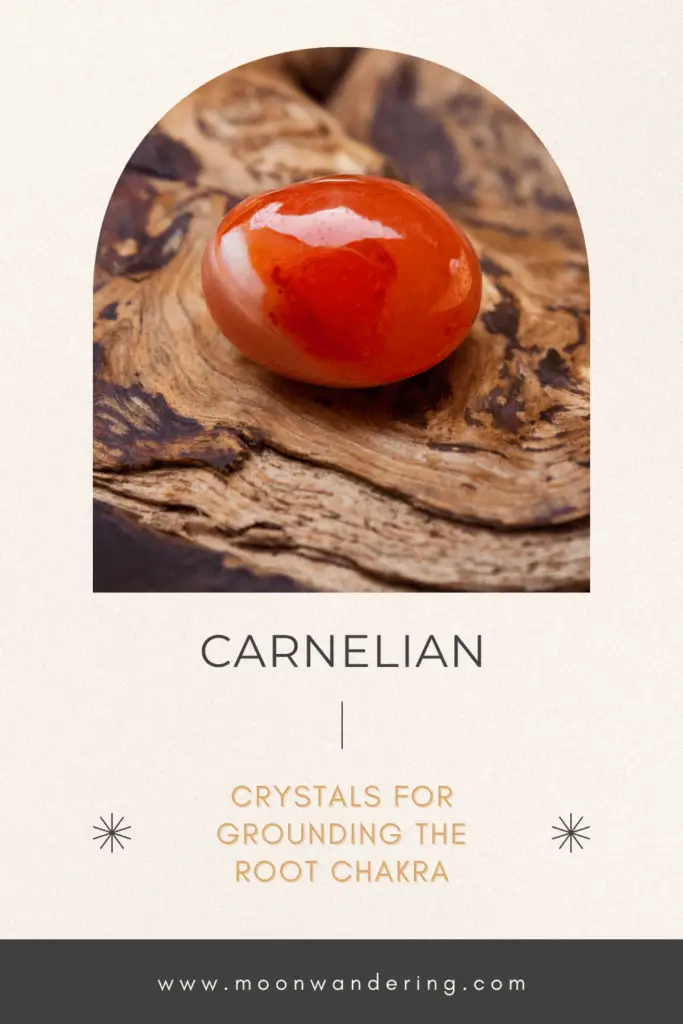 Carnelian is the first crystal on the list for today. Carnelian, a reddish-to-orangeish toned gemstone derived from the mineral carnelian, is one of the most powerful stones for stimulating activity in the root chakra. Carnelian cleanses the root chakra and helps to build the energy body with its bright color and solid form. Wearing Carnelian can help us to gain the energy and power we need to embody our fully powerful selves. When used with intent, wearing or carrying Carnelian can also help to ground and balance the energy of the root chakra for everyday life. 
Black Tourmaline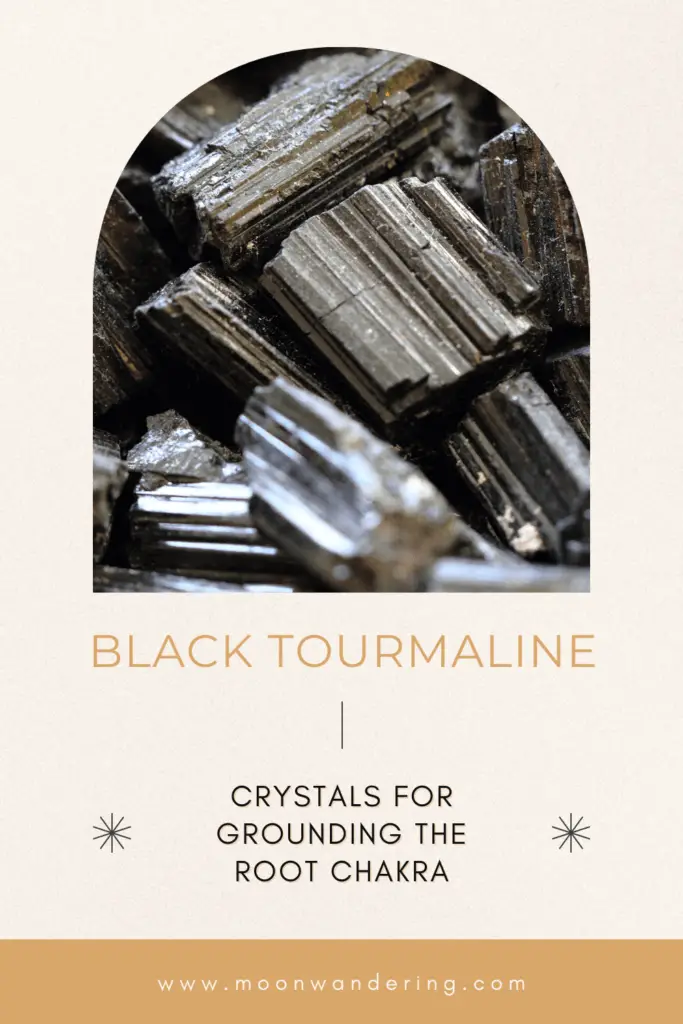 Black Tourmaline is a dense, black stone with protective properties. It is meant to absorb bad energy so you can shift into more positive thinking. Since it is known as the stone of protection, it can offer a sense of security and safety when grounding the root chakra. Traditionally used to guard our energy field, wearing Black Tourmaline can help us feel less anxious, in turn, alleviating another root chakra concern. 
Black Moonstone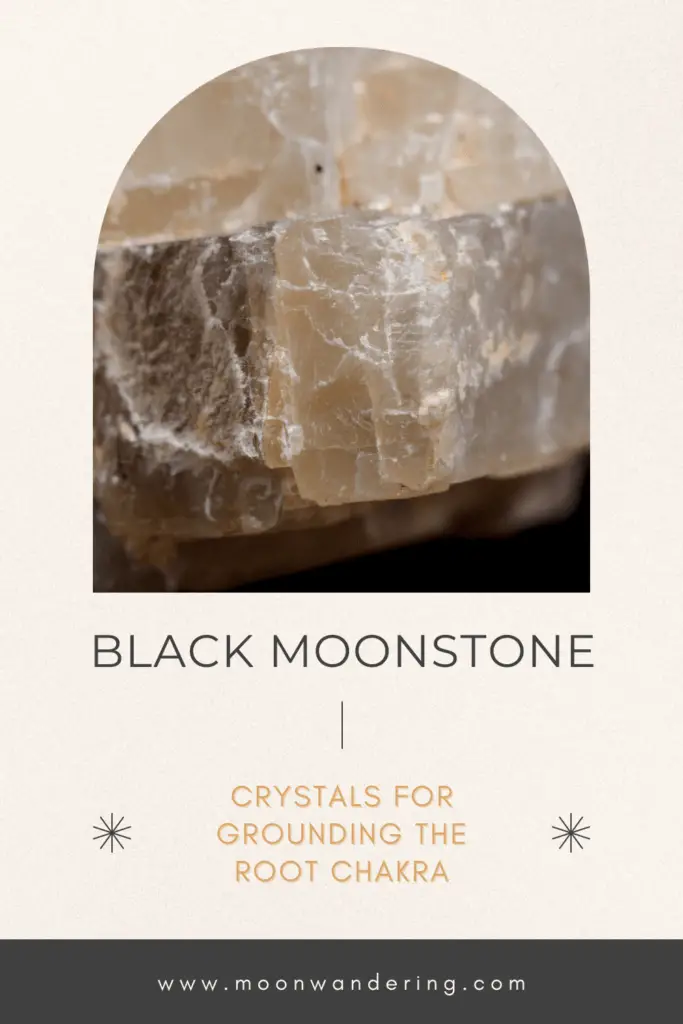 Black Moonstone is another great stone for grounding the root chakra. The moon is a powerful source of our emotional and spiritual nourishment, and when the root chakra is grounded, we are able to draw on this energy to fuel our spiritual work. Black Moonstone is a grounding stone that can help us to feel more in control of our emotions, and it can also help us to feel more connected to the Earth. You can get yours here. 
Aragonite
Aragonite is a red-hued crystal with a star-bursting shape. It is sometimes called the crystal of expansion, or the crystal of growth, since it is said to help us to grow and develop. Aragonite is a great stone to use when we are trying to ground the root chakra, as it helps to open our channels to the Earthly and spiritual realms, allowing us to draw on our own spiritual resources as well as the spiritual resources of the Earth. It is also said to help us to manifest our dreams, so it is a great stone to use when we are trying to manifest a new goal or dream. (See this post for how the root chakra is involved in manifesting, coming soon.) Get your aragonite here! 
Vanadinite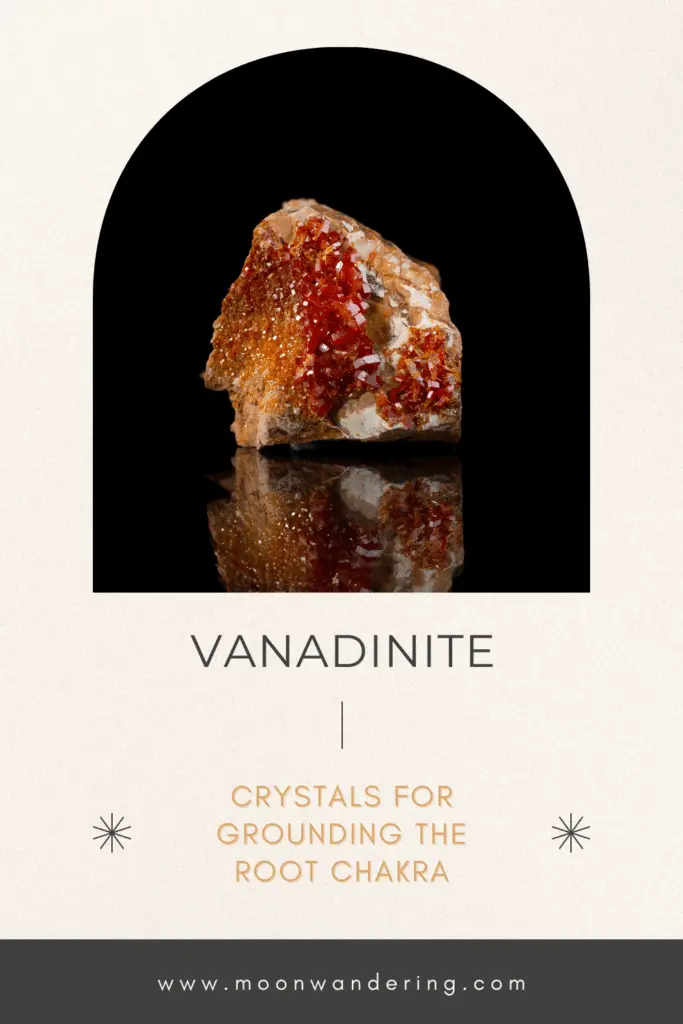 Vanadinite is another stone that can help to ground the root chakra. Vanadinite may inspire you to take responsibility for yourself and recognize your greater impact in the world. It can help you to see the world with fresh eyes. Vanadinite brings out the best in you, making you more confident and open to new ideas. This one from Moonrise Crystal is ethically mined in Morocco with a very short and transparent supply chain, making this decision even easier because you know you aren't damaging the earth in your quest for more grounding. 
Sunstone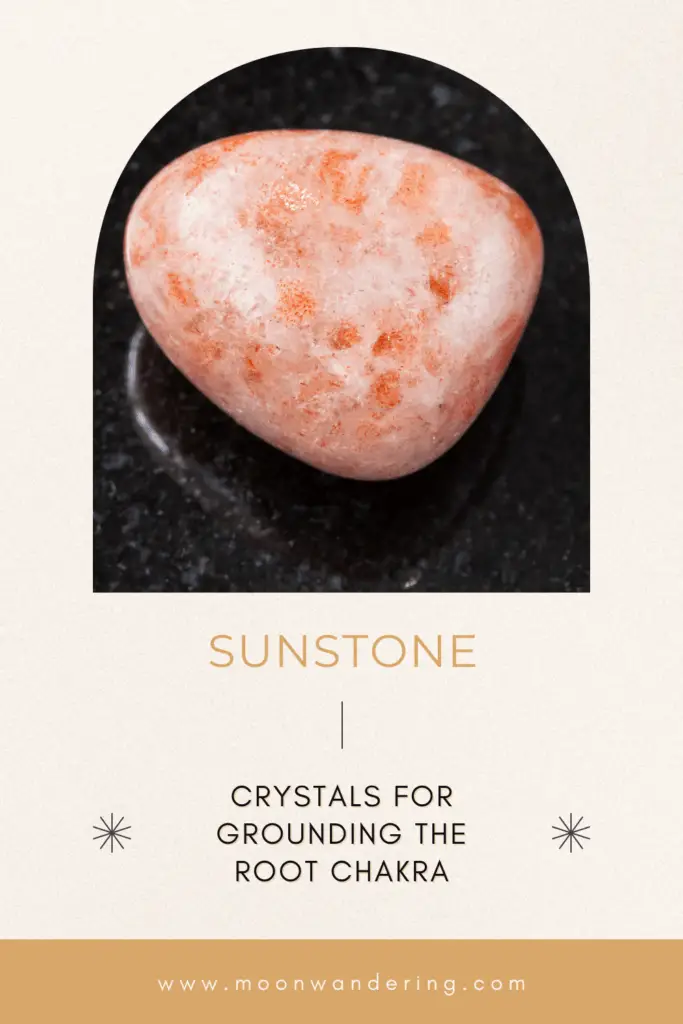 Sunstone, the stone of joy, can be great for grounding the root chakra because it brings out your qualities of childlike joy! Specifically, this one from RockParadise on Etsy is great because of its shape. It is shaped like a traditional 'worry stone,' so when you are feeling anxious or fidgety, this stone can help calm your worries by giving you a smooth stone to rub on. Simeotaneously, the energetic properties of the stone transfer positivity into your energy body. It's like giving your worries a nutritious snack to munch on while you focus on something else. Sometimes it is as simple as that to get through a tough moment. You can get your Sunstone worry stone right here. 
Apache Teardrop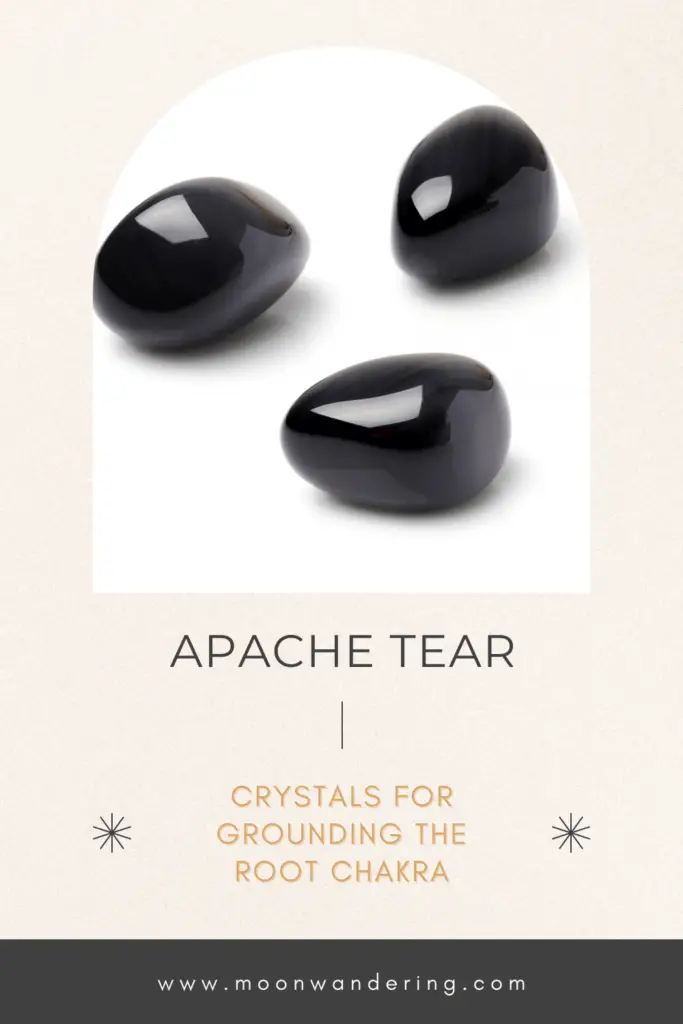 This next one, the Apache Teardrop, is a deeply personal one to me. When I was in the deep grief of losing my brother a couple years ago, a dear friend of mine sent me an Apache Tear Obsidian. I learned then that it is meant to help heal after grief and loss because it originates from North America during colonization. Many Apache men's lives were lost in battle and the women of the tribe had grief symptoms so severe that the Great Spirit embedded a teardrop into the stone. When held to the light, you may see an Apache tear within the crystallization of the stone.
When my root chakra was totally shaken, this stone brought me a deep sense of relief and comfort. There was no way I could leave it off this list. It is by far the most grounding stone I have ever had in my collection. From Moonrise Crystals, you can get it tumbled or rough.
Brecciated Jasper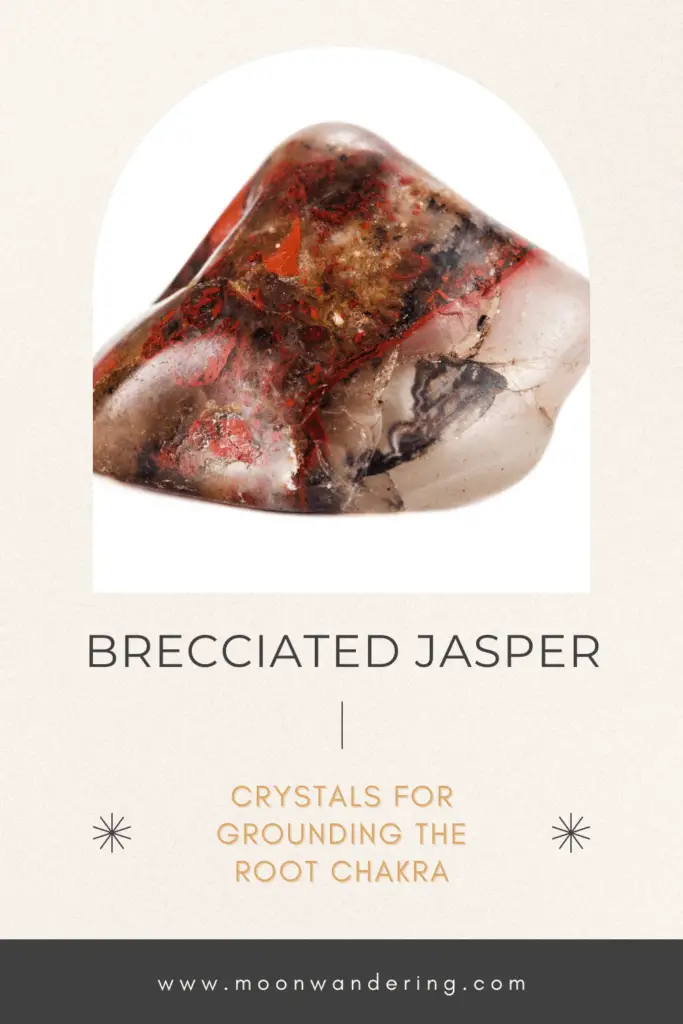 Brecciated Jasper, with its deep reds and earthy abrasions, had to be on the list of crystals for grounding the root chakra. Not only does it help you to stand in your integrity, but it also helps to release feelings of shame and guilt. When you release these lower-vibrational feelings, you are more likely to feel safe, secure, and know that you are truly loved; that's what the root chakra is all about. 
Bloodstone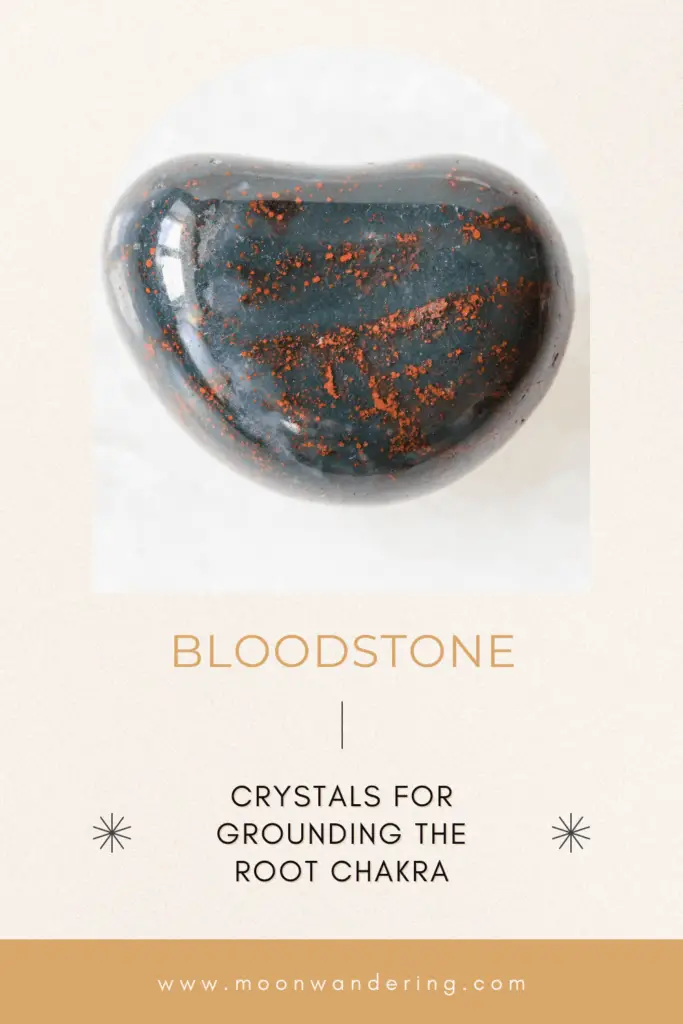 Bloodstone is great for vitality. Think about the name itself, 'blood' runs through our veins and pumps through our heart, carrying vital oxygen and nutrients to the body. Tiny Rituals says, "Not only does Bloodstone beautifully strengthen that relationship with the root chakra, but it also works wonders when it comes to the heart chakra. The heart chakra is where our love, trust, compassion, and ability to open ourselves up can be found." And, you can find your bloodstones from one of my favorite online crystal shops, Rock Paradise.
Or, you may consider this absolutely gorgeous piece: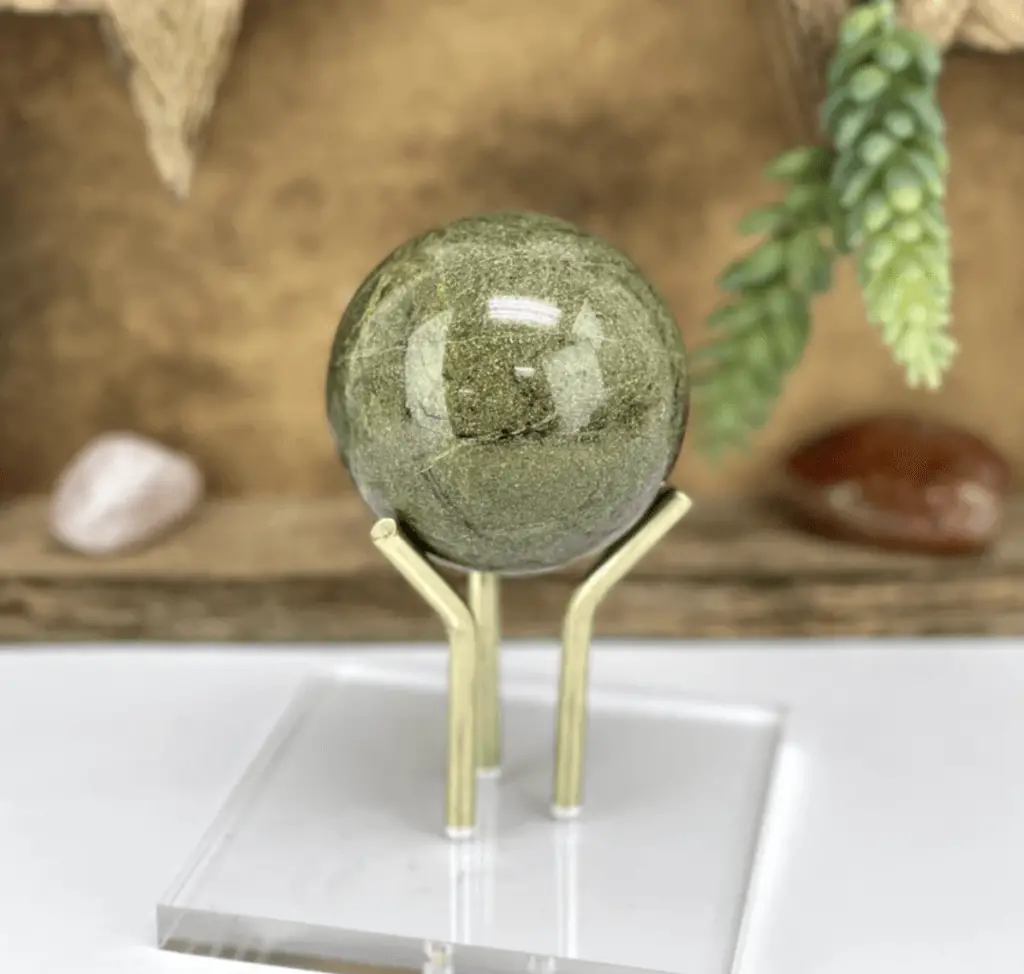 Other Crystals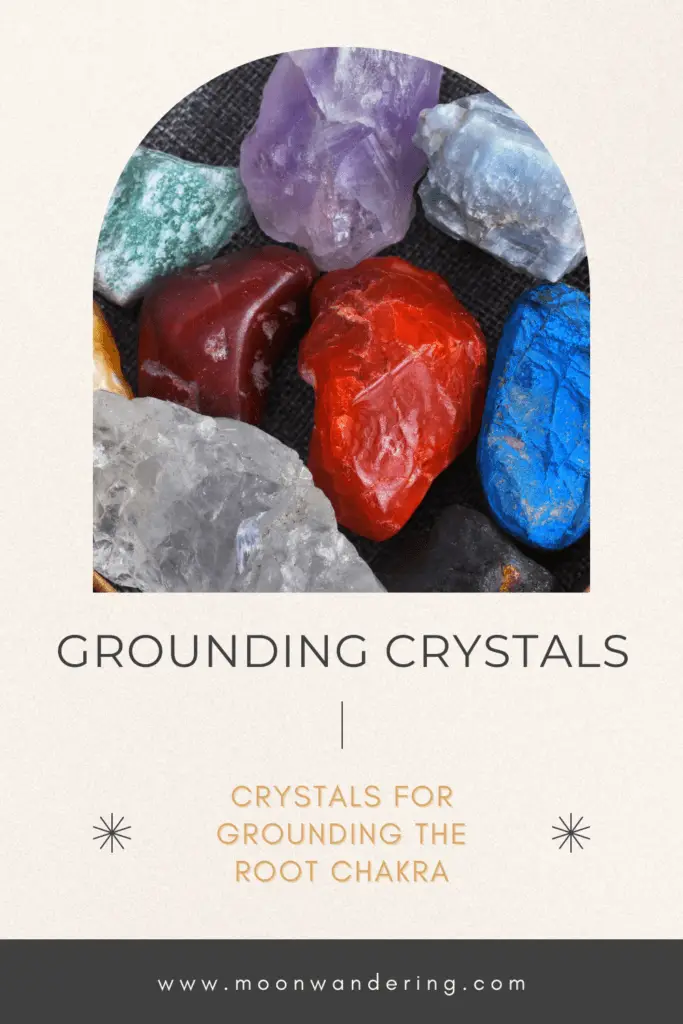 There are many other stones that help with grounding the root chakra, this is just a short list to get you started. Even though some stones may be more prone to working with the root chakra than others, it bears to keep in mind that all crystals come from the earth. Since the root chakra is correlated to the earth element, working with crystals in any capacity will help to strengthen the baseline energy center associated with the earth element. That's why my last recommendation for today is this set of 20 rough crystals from Rock Paradise. You already know how much I love Rock Paradise, because of their commitment to supplying only ethically sourced crystals. 
All Crystals are Grounding Crystals
Align yourself with the energies of strong, stable, solid materials- like the healing stones mentioned above- and you will be building up the energy body for more spiritual growth and awareness. Working with crystals in this capacity is a great start to your healing journey, but it is only one piece of the puzzle. 
Please note, the 'healing properties' of these crystals are not scientifically founded and based more on intuition and experience than facts. For more information on online crystals shops or where to buy ethically-sourced crystals online, check out this post.
Let me know in the comments if you have used any specific crystals for grounding your root chakra. 
All my love,
Whitney