Sharing is caring!
Your Questions about Crystals… Answered!
In doing work for the Root Chakra Toolkit launch coming up, I have been working with my crystals more and more.
Crystals help me feel grounded and connected to the earth energy.
How? By working with them in ritual and in my meditation practice. By placing them in unique grids and placing them in strategic locations.
I know a lot of you experiment with crystals and crystal healing as well, so I reached out and asked you on Instagram.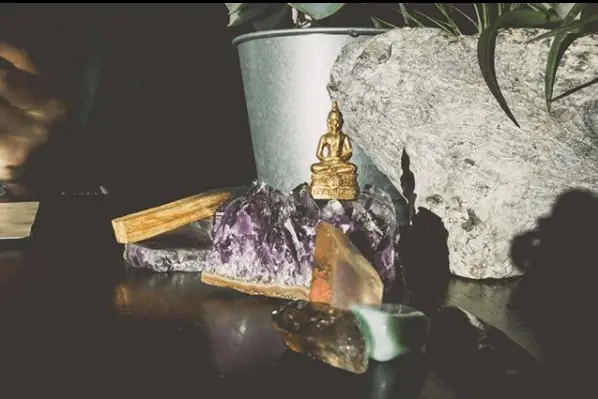 Question #1: What do look for when getting a new crystal?
As an ENFP, choosing a crystal off "feeling" comes very naturally for me and it is kind of hard to explain. But, I'll do my best…
When I'm choosing a crystal, I must energetically vibe with the place that it comes from. I won't normally buy a crystal from Amazon or big retail chain. If you are shopping online, look for small businesses. Etsy is a great choice and I've found some ethical online crystal shops there that I would recommend!
Crystals come from the earth and they hold onto the density of wherever they come from. So, if they were harvested in a way that was harmful to the environment, it will hold bad energy.
I tend to trust local dealers at farmers markets and small shops. Almost all of my crystals in my collection were bought from small stands at festivals, small independent shops, or gifted to me by friends.
If you vibe with the shop or the person selling the crystal, that's a great start!
When it actually comes to choosing a crystal, there is nothing better than picking it up and feeling it. Sometimes I'll pick up two of the same kind and hold them both in my hands to see which one "feels" right.
If it feels like a good fit, then ask it: Do you want to go home with me? 
I know it sounds silly, but try it and see if you feel any kind of response. 
You could feel a strong yes, no, or nothing at all. It's up to you to decide what to do with that…
That's how I usually do it!
Now, with Coronavirus, touching may not be allowed anymore… but I think you can apply this process to looking and seeing and just going with your gut.
Question #2:
A. How do you activate a crystal?
So, one person asked about recharging crystals and another person asked about activating them.
When you first get a crystal, it's nice when the store clerk clears it for you. I've seen this at a lot of places, where they will smudge it with sage before wrapping it up.
That's really helpful, but it's still good to welcome the new crystal home.
You could technically just take it home. Put it somewhere. And, admire it from a far.
However, if you want to work with crystals and you want crystals to work for you, then there are some things you can do to activate it.
Before putting it in your altar, shelf, of wherever you plan to keep it, I recommend giving it some kind of energetic cleanse.
This can be done with an incense stick of some sort, like cedar, sage, or even palo Santo. (Be careful with palo Santo— I've heard it's endangered and not being harvested properly.)
Or
Verbally or thoughtfully welcome it to your home. As you place it into its new location give it a verbal welcome. "This is your new home. I hope you like it here." Simply pour some positive intention into it.
** If you plan to use it for a specific purpose, tell it. "You are here to help keep the energy of this house clean and clear. I know you're up for it!"
For example, when I purchased my Blue Kyanite, I was looking for ways to activate my dream state while sleeping. When I got Kyanite and brought it home, I asked it verbally before I went to bed to help me remember my dreams.
I had the most intense dreams that night. It was crazy. 
B. How do you recharge your crystals?
As far as recharging it is goes, I recommend clearing your crystals every time you finish using them for a specific purpose.
Continuing with the Kyanite example:
The morning after I had that really intense dream, I thanked the crystal for doing its job, then I cleared it's energy with Palo Santo. I knew it brought some very intense energy into the world, so it was probably holding that in it's energetic state.
That is one really specific example, but…
I also cleanse and charge my crystals with the lunar cycle.
Full moon is for charging.
New moon is for clearing.
In general, when you want to soak up the active energy and cultivate the intention that you're working with, you can put them under the light of the Full Moon.
The New Moon is for clearing and starting fresh. Again, you leave them outside overnight in the dark sky and let them release the energy from the previous cycle.
You can also check out the article: Five-Minute Full Moon Rituals to learn more about working with the lunar cycles.
#3: What are your favorite crystals to use and why?
I saved my favorite question for last because I get to show off my favorite crystal! To be honest, I love allllll my crystals and I use them all for different purposes, but currently my favorite one is this Selenite tower.
It's the newest in this collection and I bought it for myself on my birthday from the local crystal shop in town.
Selinite is really interesting because it is self-clearing. 
It always looks like it's shining. 
You can actually use it to clear other crystals as well.
For example, if you don't have Palo Santo, cedar, or sage, you can gently tap other crystals with the Selenite to initiate a quick clearing.
I like this one because of it's stacking nature. It's the tallest crystal in my collection and it reminds me of climbing a tall mountain. Specifically, I see it as a metaphor of climbing a mountain with joy. That, by climbing this mountain, I am learning to shine my light.
Thank you for joining today!
Did you enjoy this Crystal Q & A? Let me know in the comments.
I know a lot of you work with crystals too!
Why do you work with crystals? 
What is YOUR favorite crystal to work with and why?
Pin it!