Sharing is caring!
Best Place to Buy Crystals Online
Crystal healing is a wonderful way to energetically empower yourself to meditate, heal, and connect with mother earth. Minerals from the earth contain properties that can activate the healing system in the body. Many of us collect crystals and work with them regularly. 
We're in an age where we can choose to shop consciously. In this article, I compare online crystal shops to discover the best place to buy crystals online.  When it comes to healing stones, this is particularly important because we can't simply smudge a crystal and erase the history of damage it may have created on its way to you. 
There are plenty of resources to teach you about ethical mining practices, supply and demand, and fair trade consumerism. This article is not to debate the ethics of crystal mining or the sustainability of the healing crystal industry, but to guide buyers to find shops that take on the mammoth task of finding ethically and sustainably sourced healing crystals and stones.
To live in alignment with our morals, we must find crystal shops that we can trust. Let's shop consciously.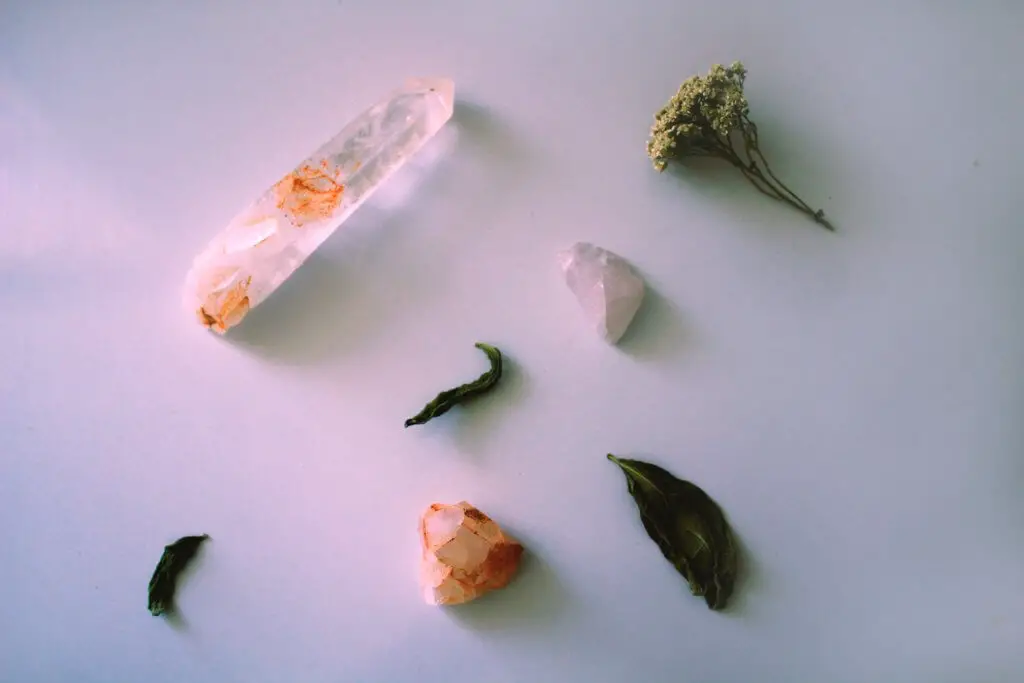 Why Online Crystal Shops?
We work with crystals for a variety of reasons. Certain crystals contain specific properties and we love to expand our collection and feel the energy of different stones. But, perhaps the local shop does not have the type of stone you are looking for or, a global pandemic prevents you from going to your usual spot. Even worse, many brick and mortar shops have had to close their doors for good.  
Whatever the reason, many people have turned to online crystal shops to support their crystal healing journey. You can start buying crystals on Amazon, but you have to remember that sadly, the industry is not as sacred as we idealize it to be. If you've been buying crystals on Amazon, now is the time to consider online crystal shops. 
We must be ethical about the source when buying crystals and stones. I'm not saying buying crystals on Amazon is the worst thing in the world. In fact, there might be an ethically sourced crystal dealer selling on Amazon, but as a consumer, we don't know because there is no transparency in the buying process. 
Generally speaking, smaller online businesses promote more clarity in the origins of their products and have higher moral standards than big businesses. So, where is the best place to buy crystals online?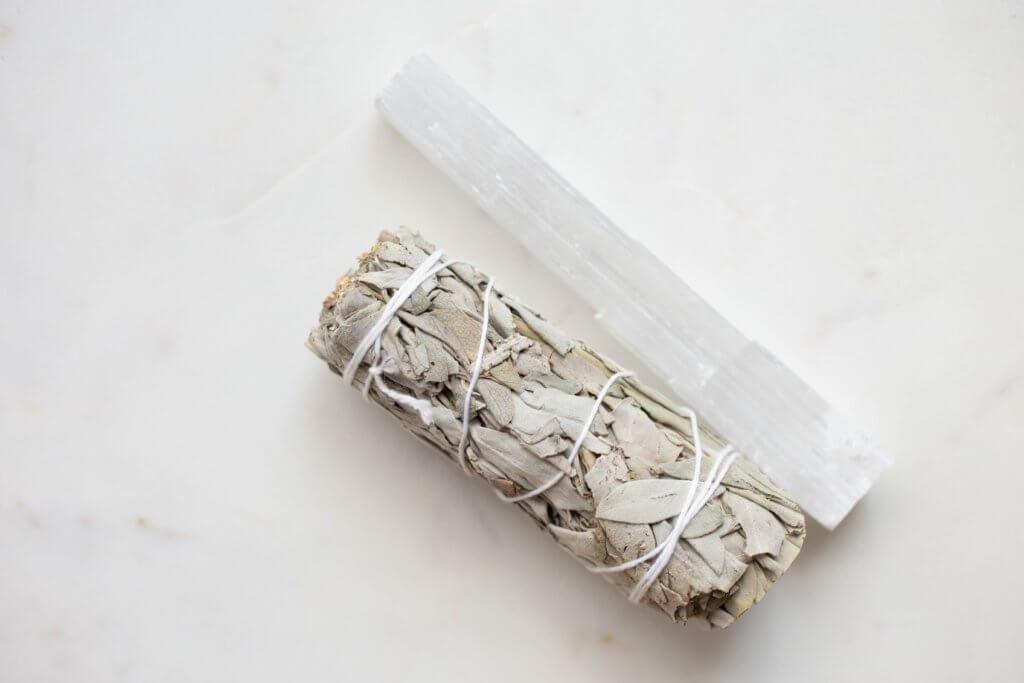 Best Place to Buy Crystals Online
Before we get to that, let's consider the difficulty of sourcing the true origin of a rock. Hint: It's more difficult than you think! Most people won't be able to cite the specific mines or factories the rocks come from as it is nearly impossible. It's not like there's an official Ethical Crystal Foundation to implement fair trade and eco-friendly practices.
So, really, the better question to ask may be, "Where to buy ethically sourced crystals online?" 
The answer is to look for small, trustworthy, ethical business. When crystal healing shops take the time to ethically source their products, we should honor them with our business over less-transparent businesses. Though the origin of our healing stones are hard to trace, there are people out there who have put in the work to keep the industry sacred. The owners of these smaller, more trustworthy shops will likely leave you with higher quality products with less energetic stigma. 
It boils down to this. We have to trust the people we are buying from. I urge you to stop buying crystals on Amazon and start looking at online crystal shops.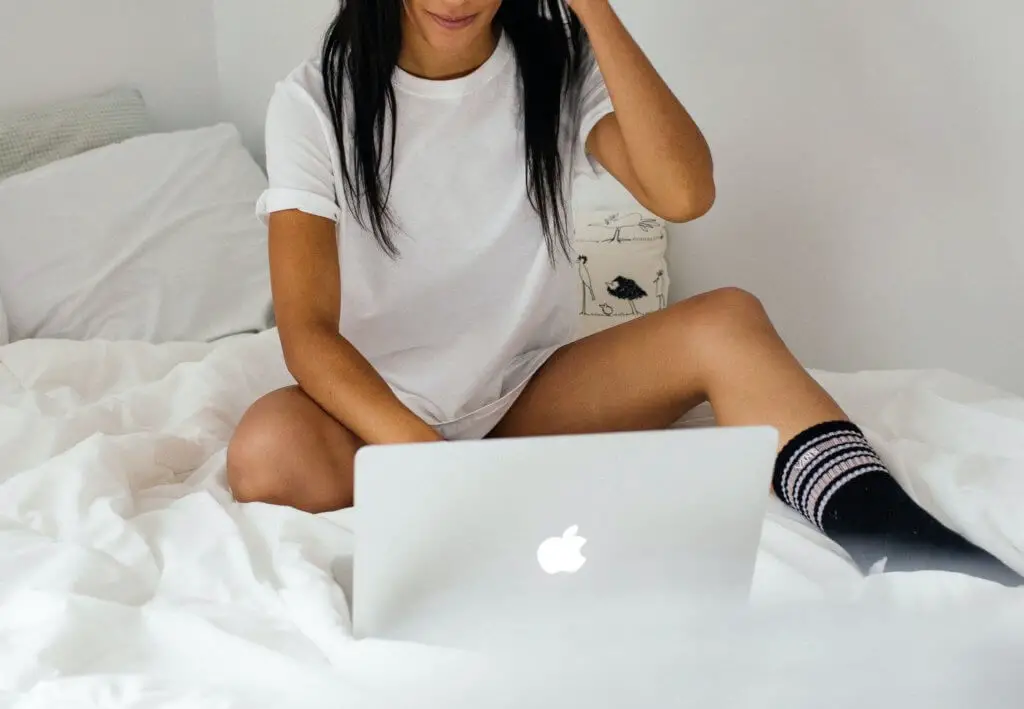 Buying Crystals from Online Crystal Shops
When you start browsing online crystal shops, it's easy to get overwhelmed. There are so many to choose from and some will claim that they rely on "trusted sources" for their products. But, what does that really mean?
Read on to find my 3 tips to help you navigate the sea of buying crystals online. Afterward, you'll find 3 Etsy shops that I've found to be the best places to buy ethically sourced crystals online.*
Tip #1 Do Your Research
When buying crystals online, you should be looking for a statement of authenticity and ethical standards. Many online crystal shops will have a page or a disclaimer that highlights their moral and ethical standards. A statement like this one builds trust with the seller and transparency in the buying process. 
To ensure you are buying from a reputable seller, you'll also want to check the store reviews. Consider how long the shop has been open. Look at the number of followers and its history of sales. You can take this even a step further by researching the geology and mineralogy of the stones you are looking to purchase. 
Tip #2 Ask Questions
It's okay to feel wary about the origins of the rock(s) you are considering. If you aren't able to find the information you are looking for clearly on their site, reach out to the owners. See if they can offer any more information. You may want to ask about the origins of their healing stones. Just keep in mind that it is unlikely they will know for certain, since there isn't an industry standard for such a thing.
If a real person responds to your questions, that's a good sign!
Tip #3 Shop Small
I really believe in the power of shopping small. These smaller online crystal shops claim to sell crystals and gems with ethical origins. You have to keep in mind that crystals and gems pass through many hands on their way to our homes and pockets. From harvesting, polishing, trading, and selling, our rocks and gems have had a full life by the time we find them.
I don't know all the specifics of the mining industry, but I am educating myself and trying to put my money where my mouth is. I invite you to do the same. Plus, you can always feel good about your purchase from an Etsy shop because it is directly benefiting the person you buy it from.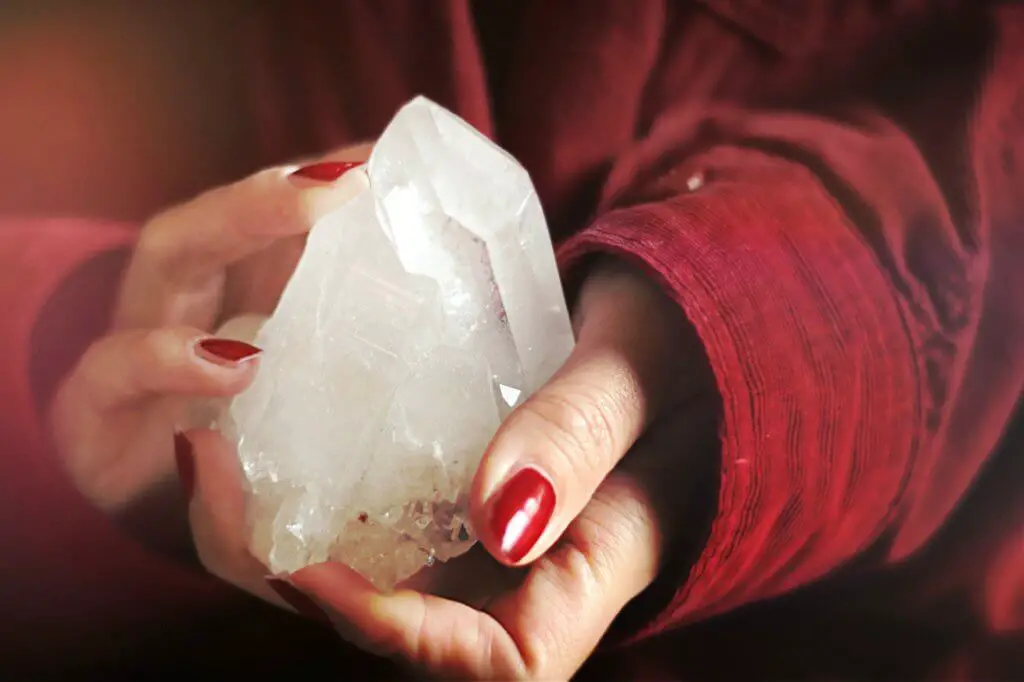 Where to Buy Ethically Sourced Crystals 
Here are 3 crystal shops on Etsy where you can buy ethically sourced crystals.* Or, go directly to my list of curated picks just for you!
Rock Paradise
Rock Paradise is owned by Simona Van Vliet in California and she has done a really amazing job at bringing clarity to the buying process and establishing herself as a trustworthy source of crystals online. 
In the one article, she says, "I am aware of where every stone in my warehouse comes from. Many factories we work with are extremely environmentally conscious. They recycle water used in cutting, they provide proper work environments for their staff and are just wonderful in general." (newrepublic.com) In the profile description of the shop itself they write, "We travel the world working with mines directly. We have our own cutting and polishing units in Brazil!" 
It seems to be doing well for her because her shop has over forty-eight thousand saves and she has made over one hundred twenty eight thousand sales. 
Moonrise Crystal
Julie's shop has been favorited over five thousand times and has made almost nine thousand sales. Not only is her shop wildly successful, but she's a true authority in the moral debate of crystal mining. She's spoken up on numerous occasions about transparency in the buying process and has tons of resources on her website to help buyers stay informed. 
The crystals in the photos look amazing and when I make a purchase, I will come back to this post to report my experience. 
Beyond Bohemian 
Paul from Beyond Bohemian also has a wildly successful Etsy shop. His shop has been saved over six thousand times and he has made over twelve thousand sales. Currently, he is taking a break but will be back in April 2021. When that happens, I will add his products to the Ethical Crystals and Healing Stones list on my Etsy profile. 
Until then, you can start buying crystals and stones that I've personally picked out with you in mind! I'm certain you'll find what you are looking for. 
Conclusion
So there you have it, a simple comparison of online crystal shops that claim to be trustworthy and ethical businesses. Now, you should be able to use the tips and suggestions to discover the best place to buy crystals online and shop for your crystals online free of guilt!
I truly believe that crystals and gems are a blessing from the earth meant to raise the collective consciousness. It's amazing that so many people are discovering the healing benefits of crystal energy. But, we must also be aware that not all mines are created equally and shopping consciously can require a lot of research and uncomfortable questions. 
May your crystals be shiny and your dreams be BIG. Share this article on social media and don't forget to pin and comment below! I love hearing from you.
Wishing you well,
Whitney
* Disclaimers to keep in mind: 
Everyone on this list has a statement of ethics on their website.
I have personally bought products from the retailers on this listing and can testify for their quality (with the exception of BeyondBohemian, but I will when they open again!) 
These are not the only ethical online crystal shops.
I encourage you to do your own research and try to dig deeper into the ethical and moral issues of the crystal healing industry.
If you have or know of an ethical shop, feel free to send it directly to me. 
If you want to be removed from this list, please contact me directly. 
Moon Wandering is an Etsy affiliate. If you make a purchase from one of these shops, I may receive a small commission. This comes at no extra cost to you and helps support this blog. Find more curated picks here. Thank you for the support!
Don't forget to Pin!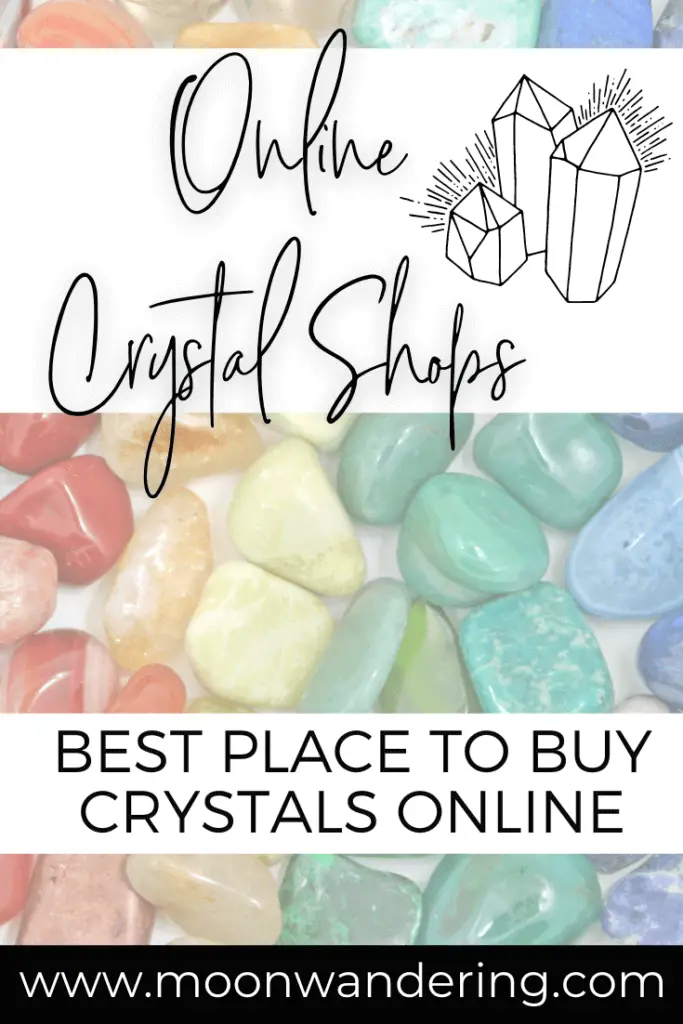 Article sources: 
Cover Photo by Sara Johnston on Unsplash
https://crystalsandcreations.com/blogs/healing-crystals-and-stones/how-to-shop-smart-avoid-fake-crystals
https://hibiscusmooncrystalacademy.com/ethically-mined-crystals/
https://www.krista-mitchell.com/blog/consciouscrystallisting
https://moonrisecrystals.com/earth-to-pocket/ and https://moonrisecrystals.com/why-earth-to-pocket/ 
https://newrepublic.com/article/148190/know-healing-crystals-come-from
Further research:
https://web.mit.edu/12.000/www/m2016/finalwebsite/problems/supplydemand.html
http://www.reuters.com/article/2012/09/19/us-rareearths-outlook-idUSBRE88I0O020120919