Sharing is caring!
More than 25+ Mother's Day Gift Ideas for the Adventurous Mom
With Mother's Day around the corner, I thought it would be appropriate to create a gift guide for all our adventurous moms out there. I'm not a mom yet, but when I become one, my adventurous spirit will live on with me and through my child, too.
Moms who love to hike, camp, and do other adventurous mom things will love these items! All moms are tough, determined, and full of grit, but they don't always get the credit they deserve. Do you have an adventurous mom? (… Or, are you an adventurous mom yourself, maybe?) Getting a gift that captures her unique spirit can be a challenge, but I'm sure she'll appreciate some of the thoughtful gifts on this list.
Disclaimer: moonwandering.com is an Etsy affiliate member and if you choose to make a purchase directly from this list, this blog may receive a small commission. That being said, all opinions are of my own. I have not been gifted or compensated for writing this article.
I check my links manually on a quarterly basis. If you see any unavailable products, or broken links, please let me know in the comments.
Adventure Mom Mugs
Let's Go Travel Mug
Your adventurous mom will love planning her trips over a cup of tea or coffee in this "Let's Travel" Mug.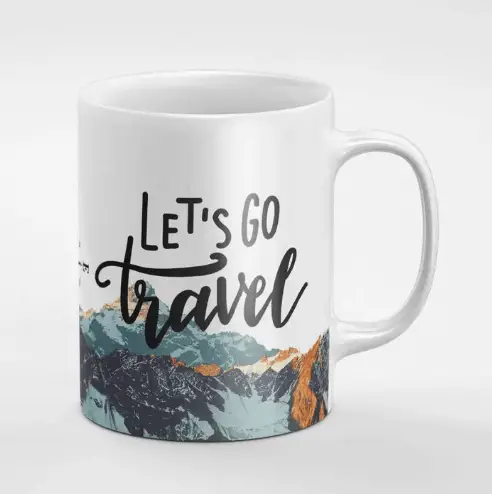 Adventurous Mom Mug
Seriously, who doesn't love a good mug? Maybe this design speaks more to the style you are looking for.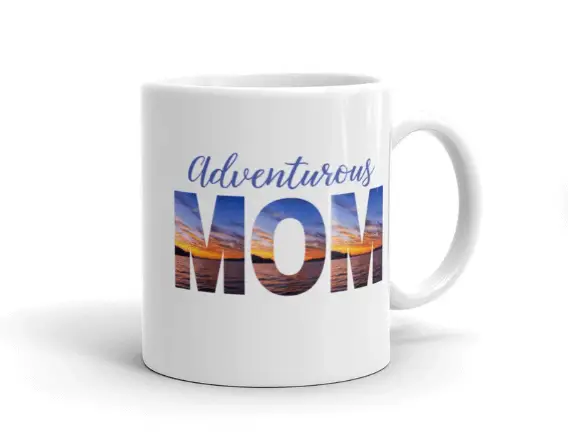 Adventure Mom T-shirts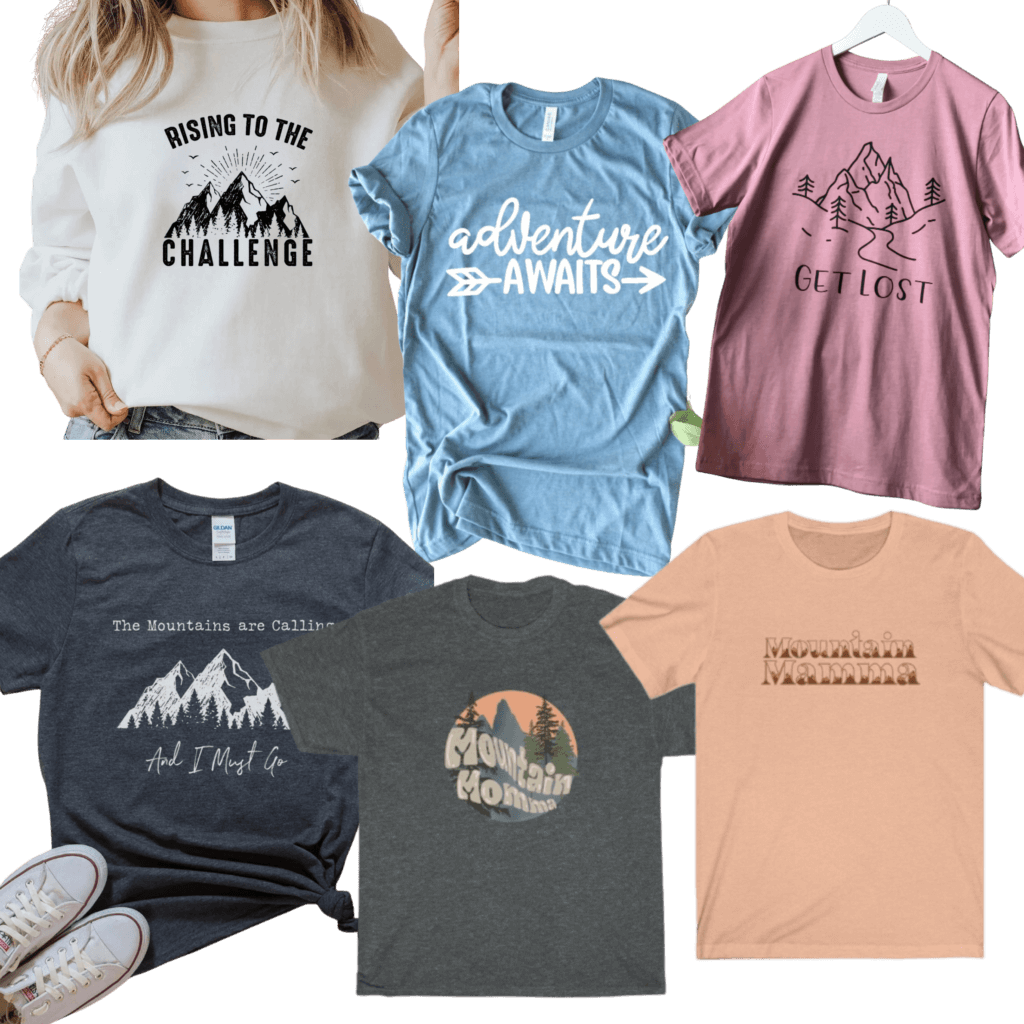 Rising to the Challenge
Moms rise to the challenge every day in so many ways. Get this shirt for her as a way to say, "I see you, mom." What an inspiration.
Adventure Awaits
This shirt comes in 15 different color combinations so you are surely bound to find the right color for her!
Get Lost (Hiking T-shirt)
If your adventurous mom loves to hike, get her this t-shirt in one of its 10 colors to send her off on her way to her happy place.
The Mountains Are Calling
… and she must go! This t-shirt looks super comfy and great to inspire your mom's next adventure.
Mountain Mama
If you or your mom is constantly dragging the family off to the mountains for vacations, she's going to love this shirt. Plus, sing the song "Country Roads Take Me Home" when you give it to her and it'll make the moment really funny and memorable.
Retro Mountain Mama
Here is the second of two "mountain mama" t-shirts that I found. I like this one for its retro font!
Adventure Mom Accessories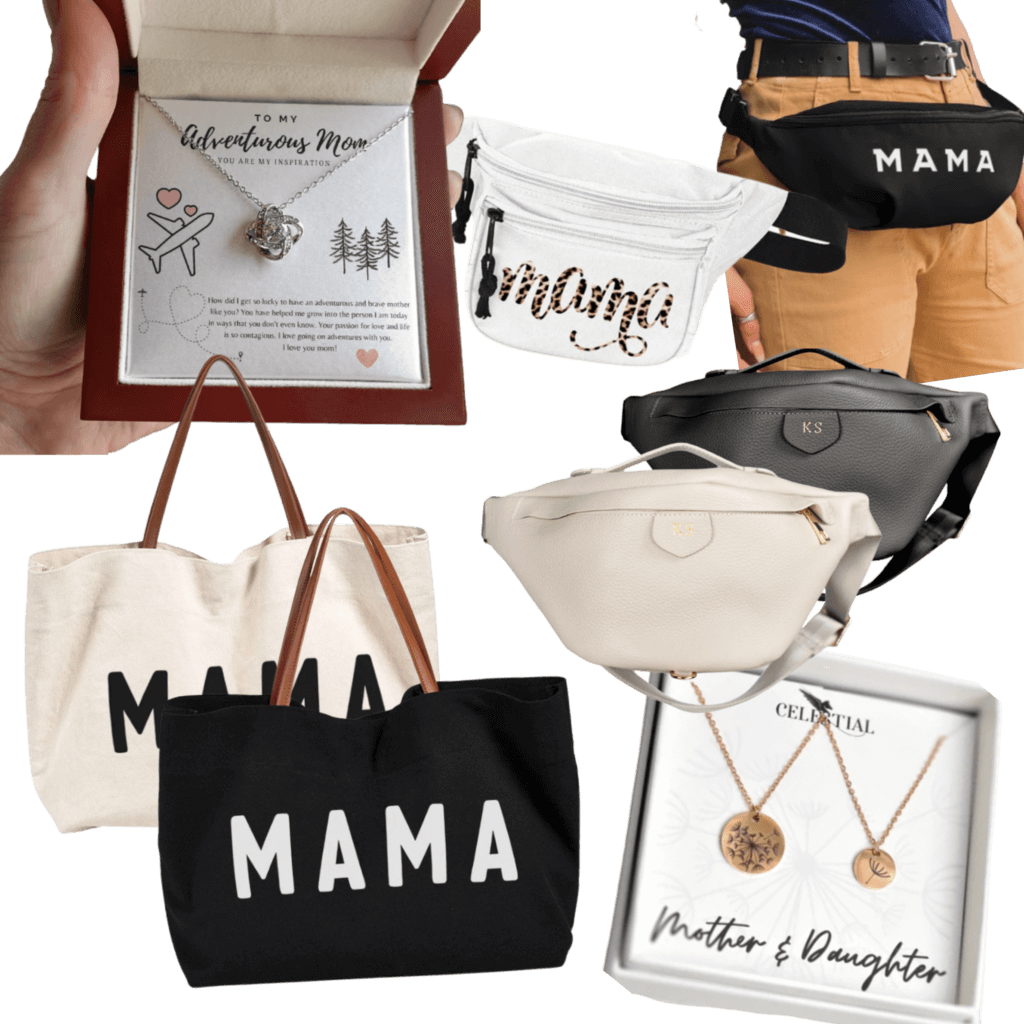 Adventurous Mom Necklace – Giftbox
This gift idea has a really touching message. It is a necklace with a giftbox and the text within the box reads, "How did I get so lucky to have an adventurous and brave mother like you? You have helped me grow into the person I am today in ways that you don't even know. Your passion for love and life is so contagious. I love going on adventures with you. I love you mom!" Awww.
Mother – Daughter Necklace Set
This adorable mother-daughter necklace set is a great way to show how much of an inspiration your mother is to you. The necklace design shows one with the dandelion with all of its whispy seeds. The other one showcases a singular whispy seed floating in the wind.
Mama Canvas Tote
The multi-purpose "mama tote bag" is THE all-in-one tote bag that she needs for her next adventure. Great for consolidating smaller bags as you are walking onto an airplane! Hint, hint.
Mama Fanny Pack
Fanny packs are back and for a big reason; They are so darn convenient!! If your mom trashed hers in the eighties, revamp her sporty style with one of these fanny packs. Here are a few I thought were cute. This 'mama' fanny pack in black with white text. Or, this white one with cheetah text is fully customizable, so you can change the colors, wording, etc. to make it super personable. You could even get one for yourself to match and write "daughter" on it. Then, you can both rock them when you go on mother-daughter adventures!
Leather Fanny Pack
If you know your adventurous mother prefers a more luxurious style, you could get her a very well-constructed leather fanny pack for the ultimate hands-free convenience without sacrificing style. This one seems more like a belted purse than a 'true' fanny pack.
There is also this one that can be personalized as it comes in two colors and you have the option to add up to 3 embossed initials to the front flap. I personally LOVE the black leather with gold lettering.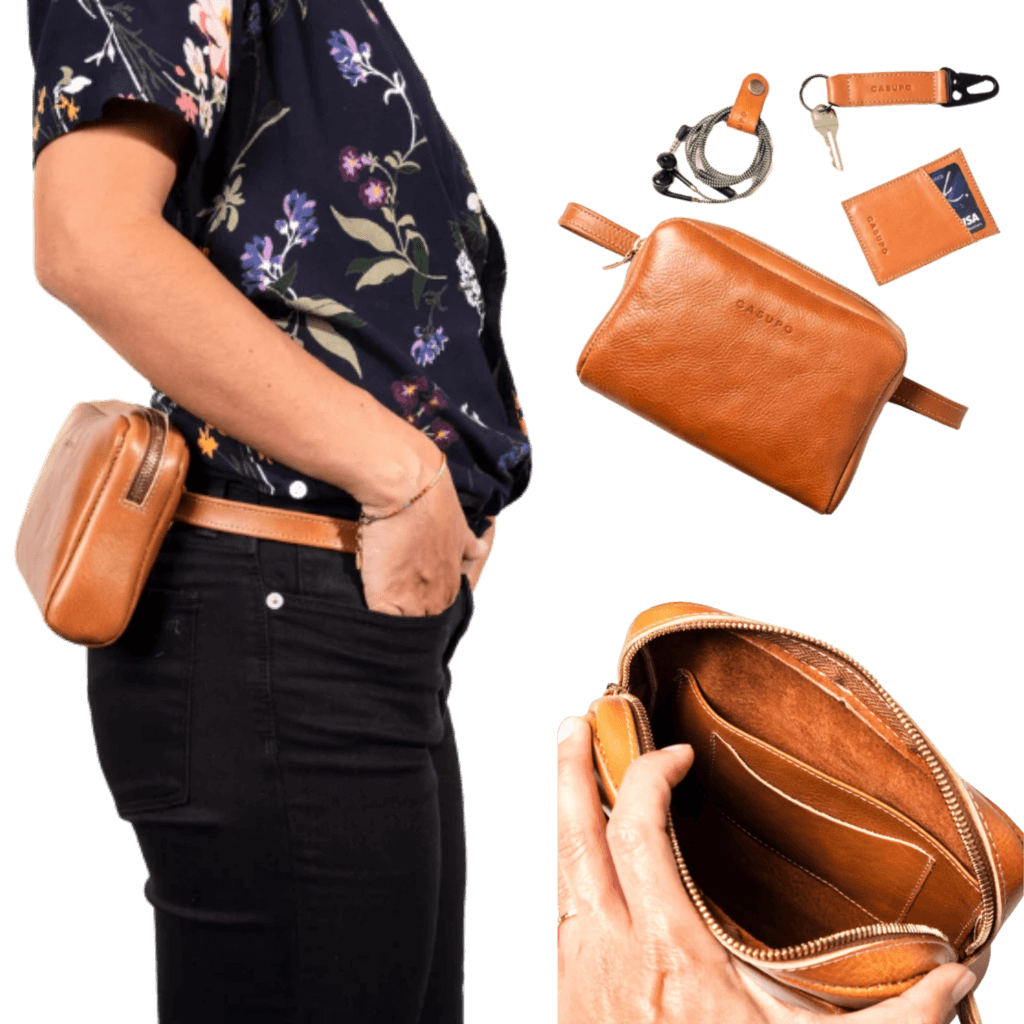 Adventurous Mom Home Goods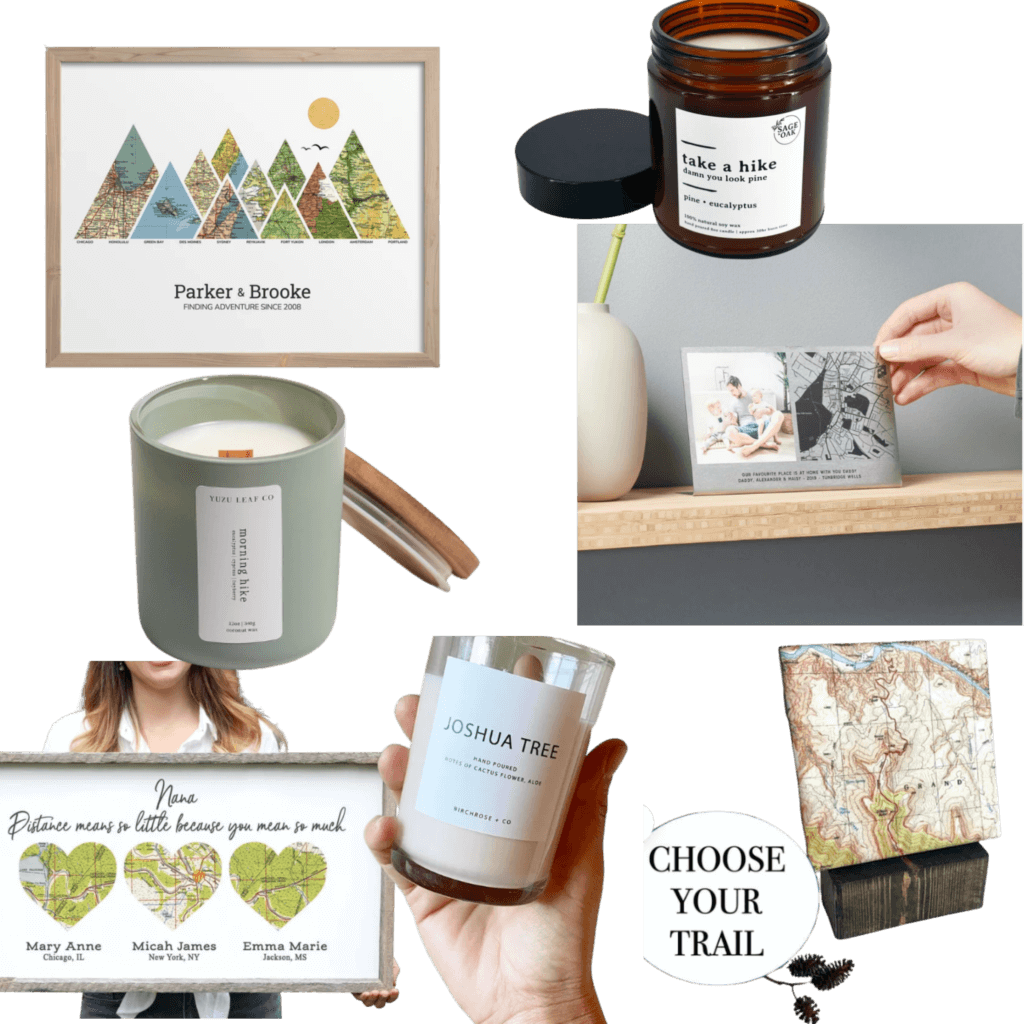 Mountain Map Customized Art
One of the perks of shopping from Etsy is the highly-customizable nature of many products on the site. This customizable map art piece will make their heart strings sing. Include maps of special places around the world. Treasure a precious memory in art form!
Trail Map Art
Trail map art can be used to commemorate a specific trail that you have hiked together, or one that you know she's particularly proud of.
Personalized Steel Photo
I like this personalized steel photo in particularly because it is a photo with a map. This connects a particular moment to a time and place. The memory feels so rich and it makes a great gift to remind your mom about stories from past adventures.
Name and Location Map Art
This framed "name and location" map art piece is also highly customizable and helps cherish a special, geographically located memory with this cute heart-shaped canvas art. Customizable by size, number of maps, and text.
Adventurous Mom Candles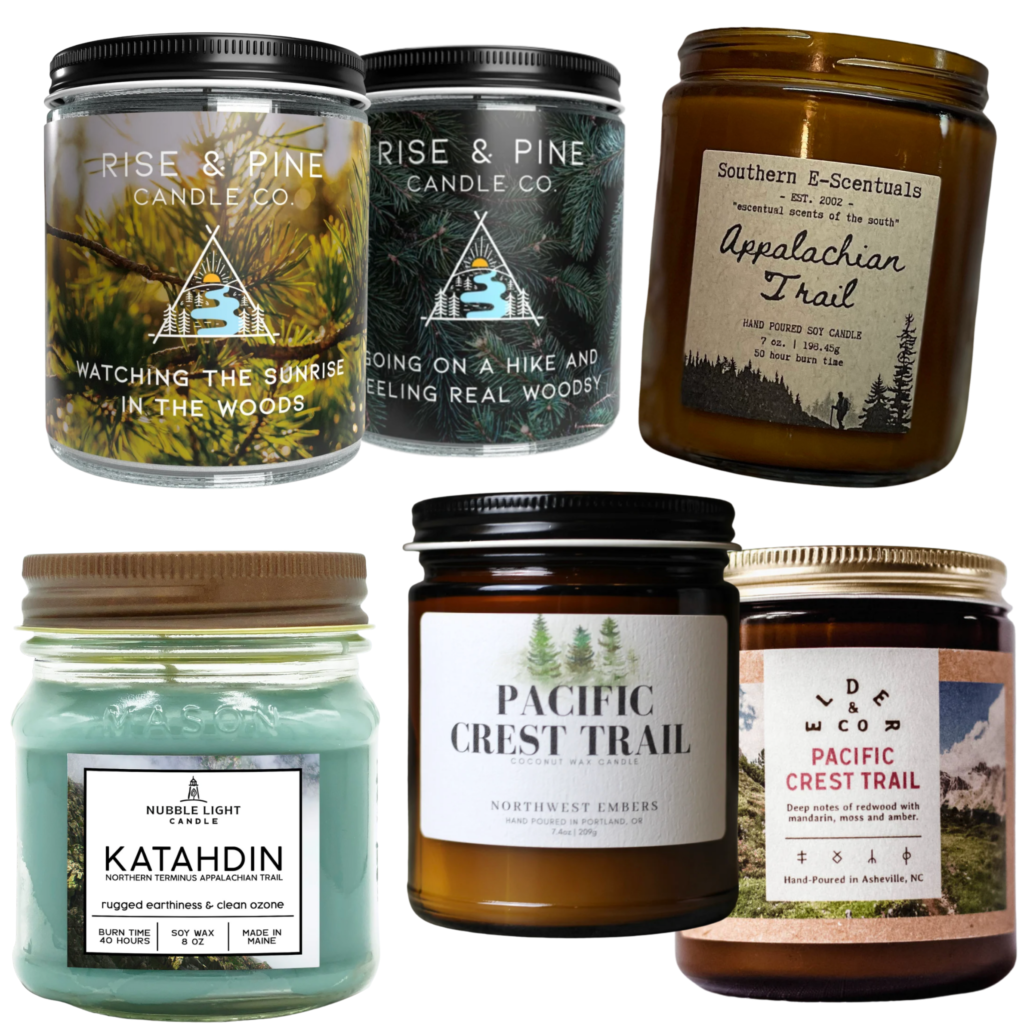 Morning Hike Candle
I know sometimes it seems scary to buy a candle online. You can't smell it! How do you know if it is good? I'll give you a secret… from the reviews! This "morning hike candle" smells like a woodsy combination of Eucalyptus, Cypress, and Bayberry. One reviewer of this product said it reminds her of, "being in the mountains after it rains." How wonderful to bring that feeling into the home of someone who loves being outside.
Joshua Tree – Places Collection
This "Joshua Tree Candle" from the Places Collection will transport you back to one of those totally unique and special places, Joshua Tree. The description reads, "an herbaceous floral blend of fresh cut aloe, sweet agave, fresh cut aloe, and grounding patchouli." Wow, that sounds awesome.
Take a Hike – Soy Wax Candle
This handmade, soy wax, "take a hike" candle from Sage and Oak Goods has a great reputation on Etsy. There are more than 350 reviews and most, if not all of them, are positive. One reviewer says, "I have several candles from Sage & Oak and can't recommend them enough." The candle itself is scented like pine and eucalyptus.
Pine and Campire Scented Candle
This "Pine and Campfire" scented candle by Rise and Pine is a real fan favorite, it seems based on the reviews. There are more than two thousand reviews for Rise and Pine and for this candle specifically, I found a glowing review. "SMELLS AMAZING! Like a real forest, not artificial. I was afraid it might be similar to pine scented cleaning supplies like other shops I've tried lol, but no, this smells very natural!! Just like it's name haha. Bought as a gift so I can't comment on the scented when lit, but is very fragrant in the jar. I love it! So excited to give this as a gift to a hiker." And, that's why I think this is a great gift for a mom who loves to hike and do other outdoorsy things.
Watching Sunrise in the Woods
Another one by Rise and Pine, this "Watching Sunrise in the Woods" Candle is everything you need to evoke that feelings of total relaxation and freshness. And, coming from Rise and Pine, you know it's good quality. One of the reviews, for this particular candle says, "This candle has a great and authentic fragrance! It burns smoothly and the scent is not overwhelming while burning…" There are other 'lit' reviews on the product listing.
Appalachian Trail
The AT is a highly popular trail that hundreds of thousands of people have hiked. Have you or your mother hiked sections of the Appalachian Trail? This Appalachian Trail candle might be the perfect gift for your adventurous mother! Want to go even a step further and get her a candle from a specific mountain along the AT? Get her this Katadin Candle, which is the final peak of the Appalachian Trail!
Pacific Crest Trail Candle
One final idea I had is based on another incredible hike, the PCT. There are two PCT Candles on Etsy.
This one by Northwest Embers is a local seller with over 700 positive reviews. One idea would be to get this for your mom because she read Wild by Cheryl Strayed and has a dream of hiking the PCT someday. One of the reviewers said, "I purchased this for my boyfriend as a fun little gift after we got our permits to hike the Pacific Crest Trail and he loves it! It shipped fast, the quality of the candle was very good and it smelled AMAZING! I say "smelled" because he burned it up in a week since he kept it lit all the time. Would definitely order again!"
The other one is a Pacific Crest Trail Cabin Candle which is hand-poured by a well-established business called ELDER and CO. with a whopping 2,240 reviews. One review states, "Love this candle- the mossy, sweet scent is lovely and fills the room quickly! Makes you feel like you could be on the west coast. I recommend any scent from this shop!" With deep notes of redwood, mandarin, moss, and amber, this candle is surely spark joy in your mom's life.
25+ Gifts for the Adventurous Mom
Wrapping up Gifts for the Adventurous Mom
I hope this list warmed you with ideas to share with your mom. For moms who love to hike, camp, and do other adventurous things, you can't discount a good in-person experience. But, if you live far apart from one another, you have to treasure the times that you have together. Celebrate your mom's adventurous spirit. Surprise her with one of these adventurous gifts for Mother's Day. Psst.. It's May 8th!
I have even more adventurous mom gift ideas on my Etsy Favorites page. Check them out and let me know if you found something that you liked by commenting below.
Share your gift on social media and remember that your purchase is supporting small business owners. That's what makes Etsy so special. Thank you for reading. Please share or pin this article to remember for later!