Sharing is caring!
Price comparisons, pros & cons, and the best rooftop tent reviews on the internet
Rooftop tents are the new best thing for campers! Why worry about a scorpion entering your tent or dangerous predators spotting you in the wild when you can get the best-rated rooftop tent and be safe and secure on your trip? 
Not only are rooftop tents a much safer option than regular ground tents, but they're also user-friendly and save you from the hassle of a long tent setup! No one has the energy to fuss over a tent's setup manual when they're exhausted from a tiring journey. Wouldn't it be nice to just roll up to your spot and start relaxing within minutes? With a rooftop tent, you can do just that!
One other thing I'd like to point out is that getting a roof top tent is also a great alternative to van life. Who doesn't want to live with the freedom of the open road? If you've got a car, you can most likely attach a roof top tent to it and start your van life adventures sooner than you thought.
Now, you've decided to get a rooftop tent but are not sure which rooftop tent is best, then this post will help you pick just the right rooftop tent for the money! There's plenty of options out in the market, but let's check out the different qualities of a rooftop tent first.
Here are the top 5 criteria I considered when compiling data for which rooftop tent is best. Consider it like a guide for what to look for when deciding which roof top tent is best. I go camping in my rooftop tent all around Eugene since I moved here last here and it has not failed me yet!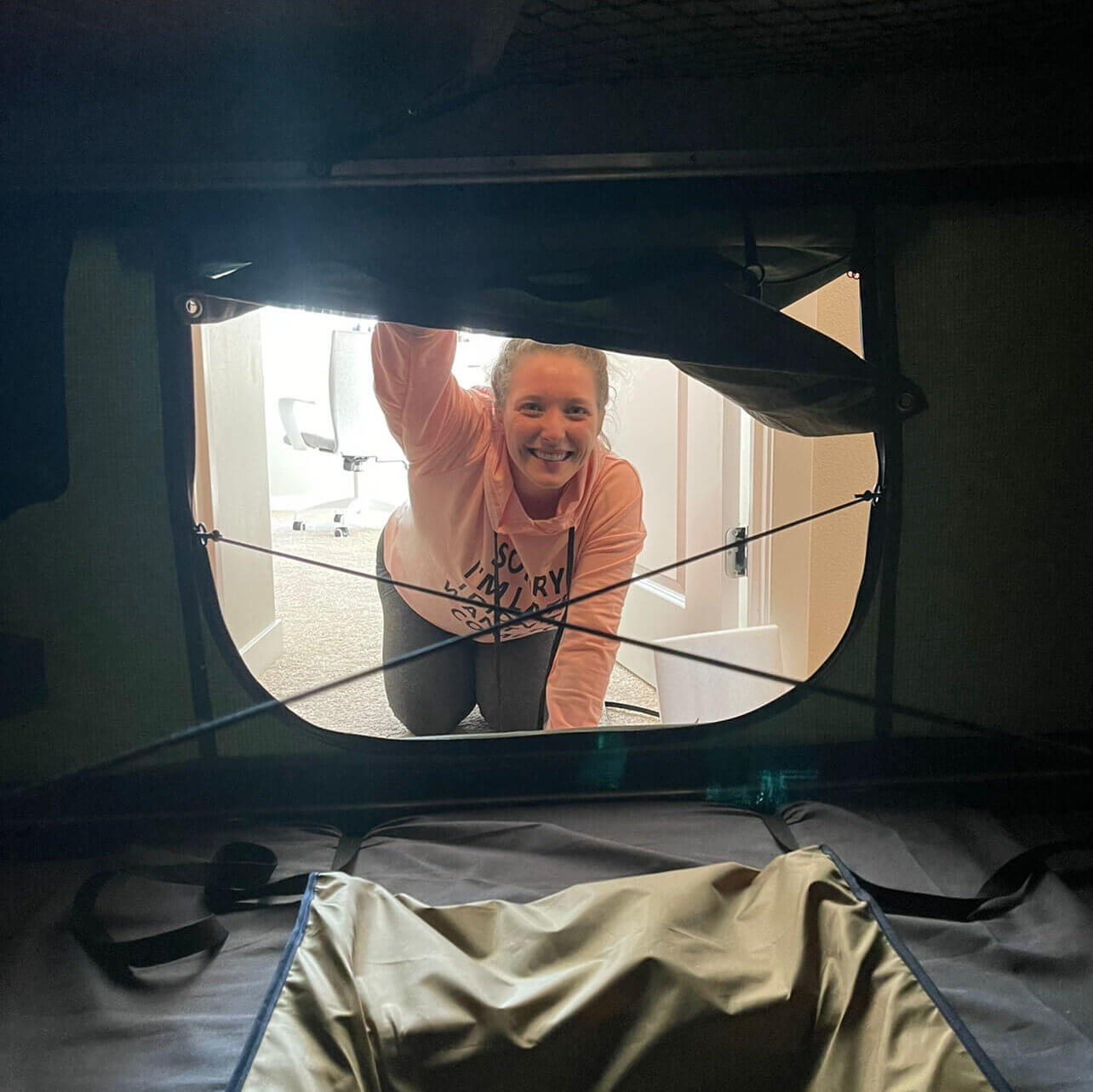 1) Hard Shell or Soft Shell
Think like a taco! Do you like hard shells or soft shells? This is a personal choice that may impact the quality and pricing of your rooftop tent. I've taken time to compile reviews and information on three soft shell tents and three hardshell tents to help you make your decision, but in my opinion, hard shell rooftop tents are the way to go.
Hardshell rooftop tents are super easy to unfold, and they work as fast as a vending machine does. A few little steps, and you can have a good, cozy tent on top of your car in a jiffy!
Softshell tents are also pretty easy to set up, and their best feature is that they're cheaper. For under $2000, you can have a nice canvas tent. They're not as convenient as hardshell tents are but are just as good overall! I don't want to shy anyone away from the softshell rooftop tents. There are enough positive reviews out there that I've been convinced.
Next, you'll see a comparison by price.
2) Pricing Comparison
Sometimes people ask, why are rooftop tents so expensive? Compared to tents that you set up on the ground, rooftop tents are much more expensive. If you're reading these best rooftop tent reviews, you already know you're going to spend up to 10x the money you would on a ground tent. That being said, there's still a pretty big range of prices to expect while shopping. 
The key reason for the high cost of rooftop tents is the fabric and material used in their construction. Softshell tents are designed with a folding structure that leads to faster setup and increased movement. 
The versatility of the canvas fabric gives a variety of applications to a softshell tent. Fiberglass and synthetic paneling make up hardshell tents. To set up hardshell tents, you are supposed to use latches and buckles, and you just undo them to set up your tent. Latches and buckles and fiberglass cost more, so you can expect these tents to be a little pricey. 
Obviously, the material used to construct a rooftop tent has a significant impact on the price, so better-grade material will add to the price of the tent. But if you think you can make do without high-grade material and all the bells and whistles, then you can go for the more affordable options on my list.
The products in this post are in order by ascending price. They are ranked with dollar signs to get the best rooftop tent price comparison ($-$$$).
3) Size, Capacity, Weight, Compatibility
There are a variety of factors one must consider when choosing the best rooftop tent for their vehicle. Most importantly, we need to consider compatibility. There's no point in purchasing a rooftop tent that doesn't fit your vehicle. Always keep the dimensions of your car in mind when trying to pick the best-rated rooftop tent. I'll include in each summary which types of cars are compatible with the different tents. So be sure to read each description before making a final decision.
4) Pros & Cons
You want to get down to the bottom line, right? Well, each tent will have different pros and cons. Your job is to see which cons you can live with and which pros you need. This will be a personal preference, so see for yourself which pros are good for you.
5) Best Reviews of Rooftop Tents
I've scoured the internet for the most critical and honest reviews of each of these products. Finding trustworthy reviews are worth their weight in gold, and I'm so grateful all these diligent people shared their thoughts about their rooftop tents on the internet for all of us to see! They're certainly the best rooftop tent reviews.
By the end, I'll address a few FAQs in regards to purchasing your first rooftop tent, and by then you'll you know which rooftop tent is best for you! Here we go.
Name

Raptor Series
Smittybilt Overlander
Campoint
Thule Tepui Kukenam
NUFR Hard Top
King Camp Hard Top
Photo
Price Comparison
($-$$$)
$
Check the latest price!
$
Check the latest price!
$$
Check the latest price!
$$
Check the latest price!
$$$
Check the latest price!
$$$
Check the latest price!
Category (hard/soft)
Soft
Soft
Hard
Soft
Hard
Hard
Design Type
Round
Fold out
Pop up
Fold out
Pop up
Pop up
Weight (lbs)
159
48
165
131
does not specify
116
Person Capacity
2 (up to 750 lbs)
2-3 (up to 661 lbs)
2-3 (up to 700 lbs)
3 (up to 600 lbs)
2 (up to 599 lbs)
2 (up to 881 lbs)
Size Open (W" x L" x H")
does not specify
95" x 56" x 51"
85" x 50" x 43"
96" x 56" x 52"
50.4"x 85.8" x 41.3"
50.8" x 82.7" x 45.3"
Size Closed (W" x L" x H")
86" x 54" x 11"
58" x 49" x 13"
85" x 50" x 10"
48" x 56" x 12"
does not specify
50.8" x 82.7" x 11"
Overall Rating
4.5 stars
4.5 stars
5 stars
5 stars
3 stars
4 stars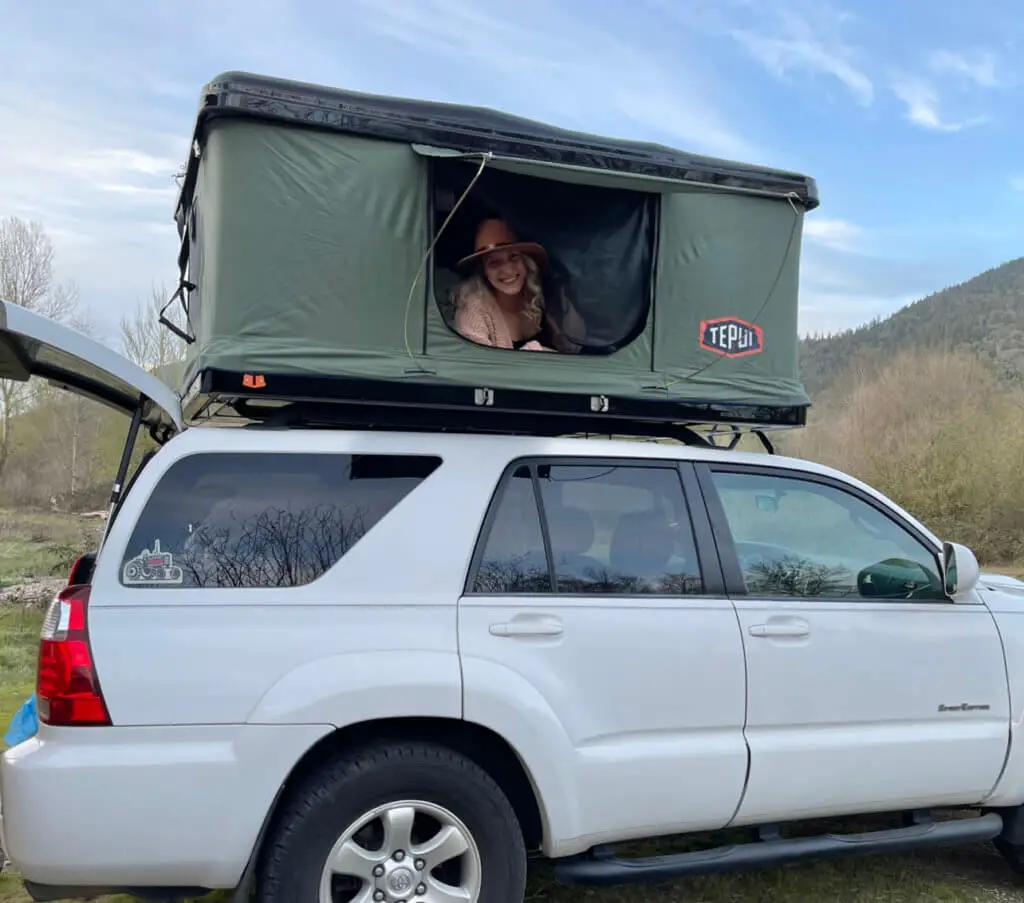 1.   Raptor Series Camping Rooftop Tent with Ladder
Summary:
Here's an excellent choice for all you SUV owners who are looking for an adventure. The Raptor Series 100000-126800 is a camping and hiking rooftop tent that's perfect for your outdoor adventures. 
A huge living area, pockets, as well as plenty of spots to store your gear can be found on the inside of the tent. Its top-to-bottom door opens to enable circulation whilst shielding you from the outdoors.
This rooftop tent comes with a double mattress to accommodate 2-3 people. If you're traveling alone, then you can spread out in the vast space this tent gives you. You can have a luxurious and calm sleep on top of your car.  
The tent will tolerate a maximum load of 750 pounds, and you'll need a 140-pound rack for it since you'll be installing this rooftop tent on parallel crossbars. The material used for making it is heavy-duty polyester. So, even though it's a softshell tent, you can keep the tent dry and safe even when the weather is cruel to you on your journey. 
This rooftop tent wants you to have a homely feeling in the tent, and this specific model can help you enjoy your time outside much more. The Raptor Series Rooftop Tent with Ladder tent is easy to install on either your factory roof rack system or an alternative rack/crossbar setup.
Because of its class, it is the smallest manual rooftop tent on the marketplace. Check the dimensions of your car and the weight limit for your crossbars before making a purchase, but this tent would be good for just about any car, including vans, jeeps, 4runners, etc.
In a few seconds, you can set it up and enjoy your very own little outdoor bedroom. A beautiful 360° view is created by the constructed canopy so that you can cherish all of your beloved camping places from the luxury of your tent.
Don't worry about a cramped feeling in the tent. Thanks to the net door, ventilation is ensured, and you'll have a breathable experience.
Price: $ – lowest priced tent on the list, but does not sacrifice quality!
Use this link to check the latest prices!
Pros:
·  Good ventilation.
·  Reasonable price but not necessarily cheap.
·  Home-like feeling.
·  Heavy duty.
·  Shoe pockets.
·  Simple setup.
Cons:
·  Poor nylon straps.
·  Might leak in rain.
. Instruction manual could be better.
·  High shipping costs.
Best Reviews for Raptor Series
This Raptor Series Roof Top Tent has some amazing reviews! It has over 150 reviews on Amazon with only 3 of them being 1-star. That's impressive. Also, there are over 200 questions that have been asked and answered about the Raptor Series. The product page on Amazon is flooded with great info, so to cut out the noise, here are the heavy hitters. If you still have questions, go back to that page and check out the customer questions. It covers quite a lot!
The most critical reviews are mostly referencing a delivery issue, which to me, isn't relevant for determining which roof top tent is the best. There are other reviews which highlight a fantastic delivery experience, so I don't think that's too common.
A lot of these reviews confirm that the Raptor Series is compatible with pretty much any vehicle; including Hummer H3, Bronco, Toyota Tacoma, 4runner, and Subaru Outback among others. I chose to mention these reviews because they cover all the bases. The first one is from Amazon and the second one is from the manufacturer's website.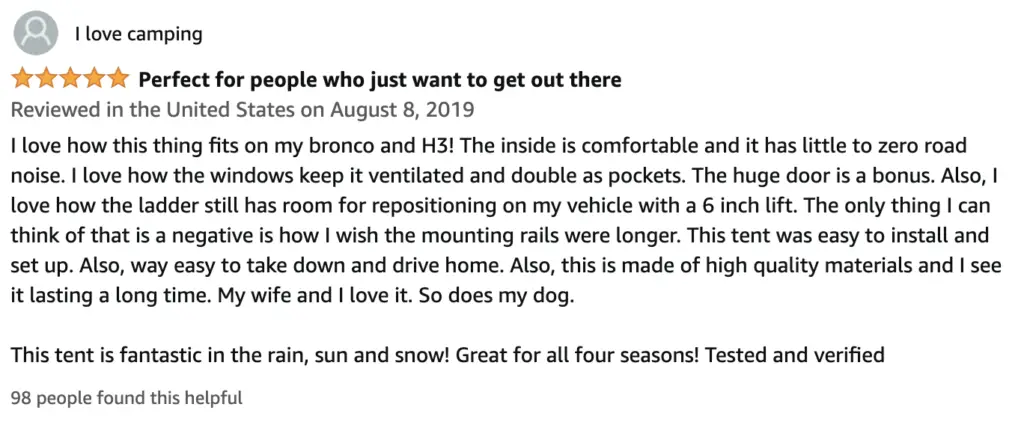 2.   Smittybilt Overlander Tent
Summary:
Another fantastic rooftop tent to make your trips better is the Smittybilt Overlander tent. Other than the fact that it's a fun name to say (try to say it out loud, Smittybilt Overlander) this tent also offers a unique and user-friendly design at an affordable price.
The Smittybilt rooftop tent is a winner when it comes to rooftop tent price comparison and is also a best-rated rooftop tent according to some of the reviews below. With just a little over $1000, you can get a wonderful tent made of heavy-duty PVC that comes with a high-density memory foam mattress and telescopic ladder.
The maximum weight it can take is about 661 pounds. It even has a sunroof, some side windows, a ladder, LED strips for lighting, and other features. So you can say this tent is all ready with the extra bells and whistles! What did I tell you? Its value for money!
This product comes with mounting brackets too for ease of mounting. And if you pair this rooftop tent with the Smittybilt Tent Annex, it's the best package ever! Only a few other tents offer this option, so it really is a nice bonus. The only drawbacks I could see are that it isn't as sturdy and protective as other rooftop tents. Also, it is not as easy to set up as other tents are. It is easy to set up, but compared to some of the hardshell tents, it can seem tricky.
Price: $ (use this link to check the latest price)
Pros:
·  Affordable.
·  Lots of good reviews.
· Optional Annex (purchased separately)
·  LED strips.
·  Sunroof
·  Waterproof and UV-resistant.
Cons:
·  Relatively tricky to set up.
·  Not very protective comparatively.
·  High shipping costs.
Best Reviews for Smittybilt Overlander:
Let me start this part by saying that I actually met someone who owns this tent and I got to ask him how he liked it. He said he, "really enjoyed being off the ground as it was his first roof top tent." He also said that he wished he had gotten a hard shell, because, "the price difference wasn't that much and it would've been a lot easier to set up and put away.
There are over 500 ratings of this tent on Amazon with only 10 of them (5%) being low ratings. A lot of the negative reviews complain about Smittybilt customer service, which could be a warning sign to stay away, but given the number of positive reviews, I think the nightmare cases are few and far between.
The product is unlikely to need customer service as it is a really fine product, overall. As long as you are prepared for assembly and installation, you shouldn't have a problem with it! Besides, there are local businesses that will help you install it if necessary.
There aren't any reviews listed on the manufacturer website, but there is more info about the product, so feel free to check it out if you are curious. I chose to highlight the following reviews for a few reasons.
First, I like the annual updates. It shows what happens to the product over time so you can get a real glimpse into what it would be like to have this tent for years to come. These are both verified purchases and mention some of the things this customer was able to do with it and what kind of weather they encountered. I also like that one of the reviews mentions the LED Light. I purchased some lights separately for my own rooftop tent, but I think it's genius that they've included them with the Smittlybilt Overlander.
If you decided to go with this one, I really don't think you would regret it!

3.     Campoint Hard Shell
Summary:
Made of high-quality Acrylonitrile Butadiene Styrene, the Campoint hard shell tent was made keeping in mind the atrocities of traveling in the wild. There could be a tree branch falling, hail falling, land sliding, and so many other factors. Luckily, the ABS stainless steel base coupled with waterproof oxford PU coating fabric provides a strong cover for you.
There's a 7.2ft telescopic ladder with this tent made of aluminum. This ladder is pretty sturdy and doesn't wobble as some ladders do. There are mosquito screens that are a useful feature to protect you from bites. Don't think the mosquito screen will suffocate you. It's pretty breathable! 
In rooftop tent price comparisons, this tent costs a little less than the other hardshell tents discussed. The difference is little, but it is still there. It can take a 700-pound maximum load and easily fit 2-3 people, so I'd recommend you take a buddy or two.
It can be installed on any car with a parallel bar rack system with weight capacity of 865 pounds. That includes the max load for the tent, plus the weight of the tent.
Price: $$ (Click here for latest price)

Pros:
· Strong and sturdy.
· Easy pop-up design
· Very similar to other highly rated hardshell roof top tents.
· Shoe bag included.

Cons:
· Larger size means potentially less compatibility with smaller cars.
· No reviews.
· High shipping costs.
· No manufacturer website.
Best Reviews for the Campoint Hard Shell Tent:
Sadly, there are no public Amazon reviews available for the Campoint Hard Shell Tent. From what I can tell, by researching the manufacturer, is that Campoint sells a lot of camping-related products through Amazon. They do not have their own website as far as I can tell and there are no other external reviews.
This makes sharing the best reviews about this tent a little tricky, but luckily this tent is almost exactly like the one I have (Thule Tepui Hardshell Rooftop Tent) and I can personally attest to its awesomeness. Also, I found this video that looks really similar to the Campoint Hard Shell Tent. It's long, but in the first five minutes you'll get all the way from delivery, installation and set up, plus a tour of the first test stay. Stay for through the rest of the video for an opportunity to see how it handles multiple trips in various weather situations.
Despite there being no other reviews about it online, if you are really interested in getting a hardshell roof top tent for a good price, the Campoint should still be considered.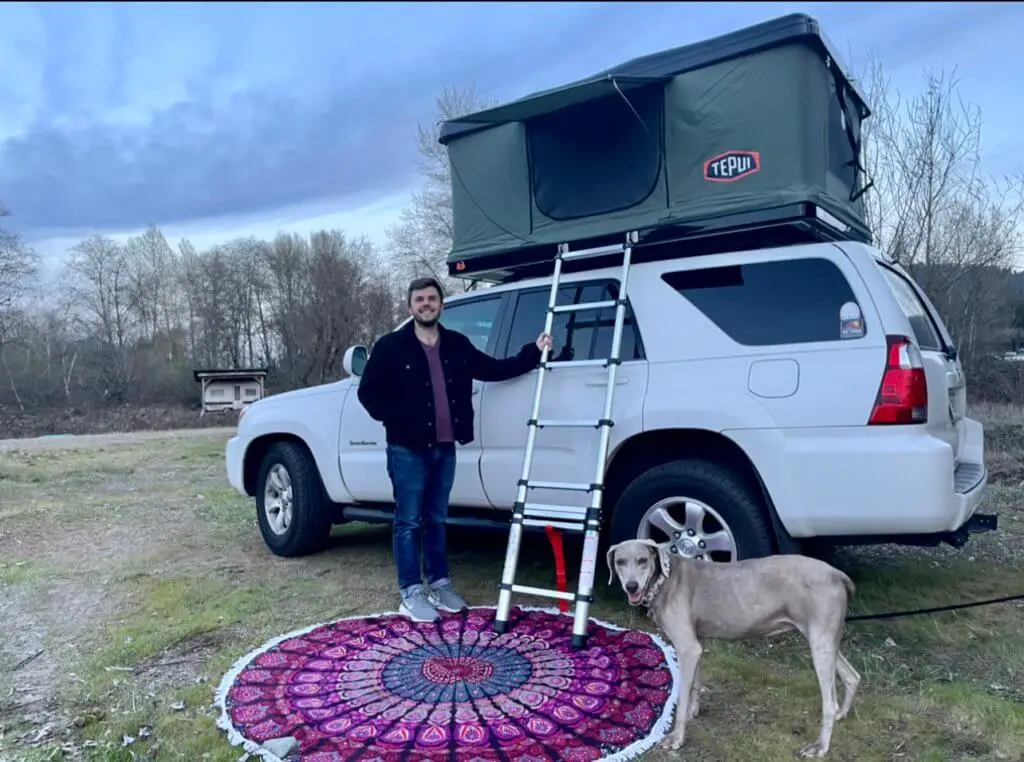 4. Thule Tepui Kukenam 3
Summary:
If you came up to me and asked me, 'what rooftop tent is best in the soft shell category?' Then I'd almost immediately say it's the Thule Tepui Ruggedized Kukenam 3. Why? Well, not only does it come in many colors, but it also has its own LED lights, and has the option to attach an annex room for extra space.
The body is made up of the highly resistant and durable 600-denier ripstop fabric that's going to last you decades, so you don't have to worry about it ripping on your journey. Also, the material can endure harsh weather conditions as well. No rain can stop you from enjoying your trip if you've got this fantastic tent made of the most durable material for a softshell roof top tent.
The body is UV-ray resistant as well and can be your shield on days when the sun decides to relentlessly follow you around. Now, a common issue with type of tent is that the zippers sometimes succumb to rainfall. Luckily, this is the best-rated rooftop tent and offers water-resistant zippers!
This rooftop tent has a height of 52 inches and an area of 37.3 sq. ft and will accommodate about three people. You can have a super comfortable nap in the wilderness!
Price: $$ (mid range) Check here for the latest price.

Pros:
· Super durable.
· LED strips.
· Accommodates three people.
· 4 big internal pockets for storage.
· Waterproof.

Cons:
· Not very secure because of the softshell.
· No external shoe bag.
·  High shipping costs
· Confusing set up and take down
Best Reviews for the Thule Tepui Kukenam 3
Some might see the meager reviews on this product and turn away, but don't do that just yet! As of October 2021, there are 15 public reviews on this product on Amazon and 7 on the manufacturer's website. On Amazon, it's total rating is 4.5 and on the Thule website, it is 3.7. At first, this does not seem ideal, but let me walk you through it.
The most critical review on Amazon was posted by someone named "Mr B" titled "Nothing but Problems," but his review is not a verified purchase, so it does not hold its weight. Also, I found this exact review by Mr. B on other Tepui tents. It seems that he reuses the same review and photos on multiple products, so it's impossible to know which tent he's talking about. This further diminished the credibility of his review, so we can't actually use it to help us make our decision. Without that review, this tent would perform significantly better on Amazon.
The reviews on the Thule Tepui website were even worse! But, to be fair, 3 of the 7 public reviews are totally not their fault and do not point to the failure of the product in any way. One of the 1-star reviews complains that the customer can no longer open his sunroof. I think that is to be expected once you attach this giant box to the roof of your car, that you won't be able to open (or even see through) the sun roof. Am I right? Not a fair or helpful review.
Another manufacturer review complains of a hole in the bottom of the tent in which several bugs kept creeping in. In this instance, Thule responded with in 2 days and troubleshooted the problem with her and offered to fix or replace it since that kind of thing is within warranty. So, in my opinion, those are good signs!
After investigating all of the reviews on Amazon, plus the reviews on the manufacturer's website, here are the most credible, honest, and helpful reviews on the Thule Tepui Kukenam 3.

5.   NUFR Roof Top Hard Shell
Summary:
To withstand severe thunderstorms and precipitation, the NUFR rooftop tent is made up of an amalgam of sturdy ABS protective shell and a unique weatherproof treatment. With the high quality materials used to create this, it's pretty clear the manufacturers wanted to make sure no harm ever comes your way! 
To keep the insects out and provide better ventilation. You can have a fully automated setup in less than a minute. To raise the top of the roof tent, start releasing the fasteners on both sides, and your mini bedroom will be all ready.
Also, another side note, is that there are advertisements of this tent on top of a mini cooper, so you likely won't have any compatibility issues with this. Be sure to check you have the right roof rack! It needs to be able to hold at least 500 lbs.
A telescoping ladder is included with this roof tent and can be attached to either side for convenient access. It's a standard-sized roof tent with a two-inch high-density queen-size mattress. It provides you with a big amount of area to rest so you can spread out and enjoy like you would in a cozy hotel room!
Price: $$$ (here for latest price)
Pros:
·  Good quality material.
·  Easy to use.
·  Maintains large size, but can fit on any car.
·  Great ventilation.
·  Great canopy shelter.
Cons:
·  No reviews available.
·  Not as cute as some of the others.
·  NUFR does not have a manufacturer website.
·  High shipping costs.
NUFR Rooftop Tent Reviews
Again, we have found another Amazon product without any reviews nor manufacturer website. I almost considered taking this recommendation down because of the lack of verifiable reviews, but I've decided to leave it up. The fact that there are no reviews right now, does not mean there won't be some later. Plus, this product is eligible for return, refund or replacement. You might have to pay back half of the shipping (which is a lot when it comes to these huge products), but otherwise is relatively risk-free. Just look at how easy it is to set up.
6.   KingCamp Rooftop Tent Hard Shell
Summary:
​​While this rooftop tent is last on our last, it doesn't mean it is any less than the others! It can be a tad bit pricier than the NUFR Roof Top Hard Shell tent, but it might just be the best rooftop tent for the money. You won't regret it once you've spent a night out in the wild with this one!
You're probably wondering why I've constantly been talking about hardshell tents. I mean, what's the big deal, right? But you're about to find out why.
Setting up the King Camp tent takes a minute or even less. It is just going to pop open, thanks to the automated setup. The hydraulic strut makes set up effortless. Climb in using your telescopic aluminum alloy ladder! I love that all of these tents come with a mattress and ladder.
The mattress is standard size, and two people easily fit in on the queen-sized, comfortable mattress. The maximum weight capacity is higher than the previous tents we discussed. This bad boy can take up to 880 pounds of weight!
This hardshell tent by KingCamp is made up of a super durable and high-quality ABS hard shell to make it super protective. You don't have to worry about the creatures outside because you'll be all safe perched in your little tent. The shell is coated with a standard waterproof coating to make it resistant to weather conditions. 
The only down side it doesn't have any reviews on Amazon, so I've tracked down the brand website and found 3 verified-buyer reviews.
Price: $$$ (click here for latest price)
Pros:
·  Protective hard shell.
·  1 minute setup.
·  Queen size.
·  Dry and comfortable.
·  Lightweight design.
Cons:
·  No Amazon reviews.
·  High shipping costs.
Reviews for the KingCamp Pop-up Roof Top Tent
Despite having no Amazon reviews, this product did show 3 tent reviews on the manufacturer site. I'll be honest, they weren't the most promising. There were all 1-sentence comments that could have easily been created by a bot.
Below is the most detailed and honest review about the KingCamp Pop-up. The only thing I can say in defense is that I have a tent really similar to this and it works great! Check out this post to see why I still think hardshell rooftop tents are the best.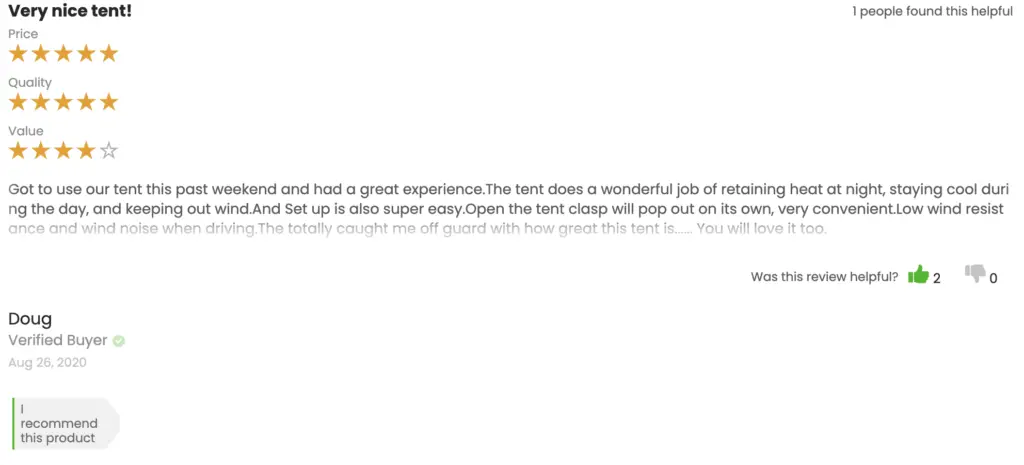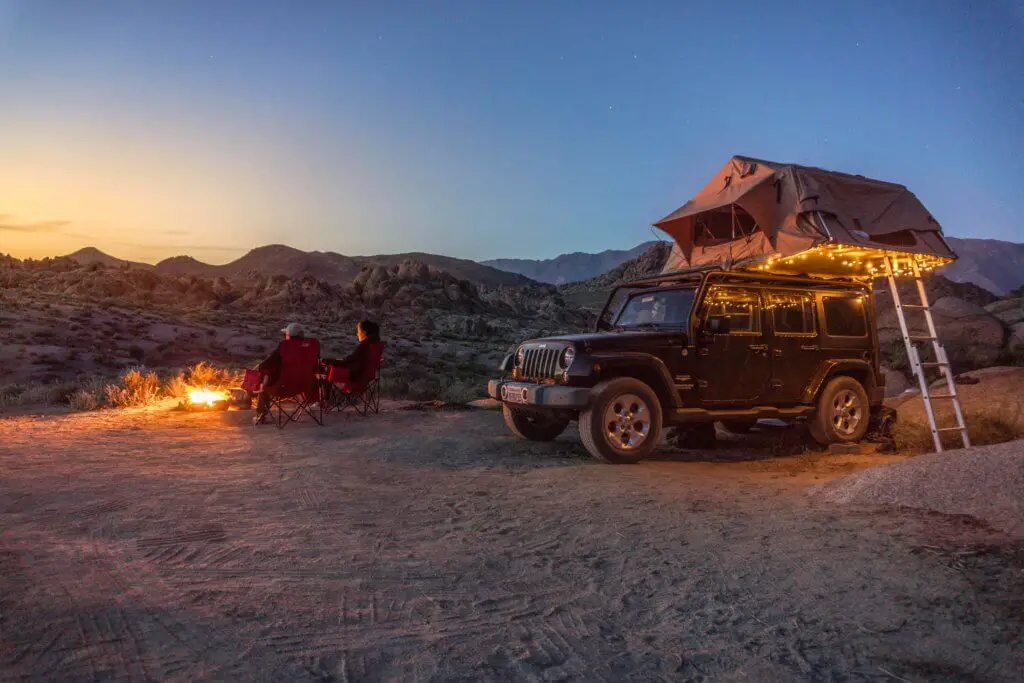 FAQ for Rooftop Tents
1. Can you put a roof tent on any car?
Usually, most rooftop tents are attachable to any SUV, jeep, or vehicle. However, you must see if the dimensions and weight capacities coincide with your car to avoid getting damaged. Always confirm with the manufacturer to see if the tent is compatible with your vehicle.
2. Can I primarily just leave this mounted to my vehicle indefinitely, through car washes, and through all four seasons?
It is preferable to remove the tent during car washes and when it is not in use. Try washing the rooftop tent separately as car washes may not be able to clean your vehicle properly with the tent attached, and some components of the tent may be ruined.
3. Average estimated delivery rate?
Within the US, tent shipping costs around $150. Shipping rates also differ by the weight of the tent and the region it is being shipped to.
4. What other items would I need to buy with the tent?
Most tents don't come with a rack, so if your car doesn't have one, you should buy a rack separately.
Otherwise, you might also consider tent expansions, bedding, and led lights. I've never heard of one of these tents coming without a ladder, so it's probably nothing to worry about, but if your tent doesn't come with a ladder, you may need to get one of those too.
What other questions do you have about which roof top tent is best? What other tents should have been considered on the list? Let me know in the comments!
Thanks so much for reading. Don't forget to like, share, and pin this article to show some love!
Xoxo!
Whitney